How to participate in the project that helps Milan's homeless at Christmas time
Fashion4Homeless, Amina Ladymya's charity project, returns for the second year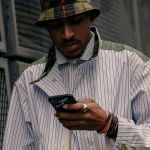 Milan is a city full of contradictions and certainly not without its problems. And while usually, at Christmas time, the general thoughts of the Milanese always run to Cucchi's or Cova's panettone, holiday gifts, work secret santa or sales, it's also important to help those who have problems far more serious than what gift needs to be put under the tree. Last year, together with a group of fashion workers, Senegalese-born model Amina Seck, better known by her stage name Amina Ladymya, founded the Fashion4Homeless project for this very purpose: not only to limit herself to normal charitable gestures such as donating winter clothes or shoes to the homeless, but also to give visibility to the marginalized people in our metropolises whom general carelessness ends up dehumanizing. Last year, in its debut, the independent charity donated numerous clothes, shoes and even greeting cards to the homeless in Milan-and is preparing to do so again this year.
The entire project was born, it is worth noting, not from the top of a company but from the effort of individual fashion workers, including also photographers, stylists and agents, who wanted to emphasize the community values that animate this and future initiatives of the project, which, among other things, recently announced a new initiative dedicated to the education of the neediest children in Senegal through a scholarship program. After the success of the first edition, which also received an award from the To Get There Foundation last month, the Fashion4Homeless Christmas initiative is renewed again this year: it is already possible to donate winter clothes and shoes in good condition and also to offer to help distribute them next December 22 starting at 10:00 am. In addition to donations from individuals, this year the project also had the support of Tommy Hilfiger, historic retailer Bidon Fashion, and independent brands such as Dyed Works and Femynal, as well as the support of the To Get There association.
Any information about the project and donations can be directed to the Instagram page @fashion4homeless. The distribution of the garments will be held next Dec. 22 starting at 10 a.m.