TikTok teaches us how to dress with the "Three Words Method"
Give me three words, and I'll tell you who you are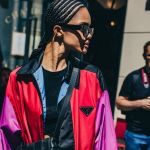 Is it possible to sum up our whole personality in three words? According to a new trend from TikTok, there is nothing more fulfilling and profitable. Basically, in order to minimize the time spent while shopping and obviate any perplexity during the choice phase, according to the creators of TikTok we should approach fashion as if we were inside a video game. Let's take "The Sims" as an example: at the creation stage, after modeling the physical characteristics, we move on to choosing the main personality traits (a maximum of three). Based on our selections, the algorithm will then suggest a series of pre-set outfits that fit our character's attitude: an irredeemable romantic? Here's a pink miniskirt paired with a floral blouse. Do you like to provoke? Try wearing this black leather stud, bralette and stilettos. But what if you're a lazy heavyweight? For you, better an oversized polo shirt and a pair of Bermuda shorts, and don't bother wearing shoes!
If this concept were applied to real life, where brand offerings are infinitely greater than in the 2000s video game (yes, even if you unlock all the items with tricks), each of us would be readily assigned a daily uniform that reflects, in every way, every facet of our personality. And this is the goal of Allison Bornstein, who from fashion guru and consultant to celebrities (from Katie Holems to Camille Rowe) has recently rediscovered herself also as a creator on TikTok, where she breaks out style tips and advice based on this system. Starting with celebrities, Bornstein tries to define the style of anyone who comes to her through three emblematic adjectives, isolating favorite outfits and marking them as "evergreen," in a set that contains all the items the client doesn't want to go without. Then again, "tagging" is one of the simplest and most instantaneous things we can do: if we think of Lady Gaga, by and large the first adjectives that come to mind are "spectacular," "creative," and "transformational." If, on the other hand, we visualize Jane Birkin, it is almost impossible not to identify her as "chic," "simple," and "French" (even though she is originally British). And so on, in a chain that sums up in three glaring epithets all the aesthetic sense of every celebrity that crosses our minds. But are three adjectives really enough to shape our entire wardrobe?
In the age of volatile trends and last-minute fashions, the "Three Words Method" might be the ideal technique to keep us from getting lost in the meanderings of the "-core" of the moment, and keep firmly in place that stylistic personality that we have painstakingly built up over the years. Besides that, it could also entice us to reinterpret contemporary trends in a novel and customizable key. If the three aesthetic adjectives we have assigned ourselves are "sporty," "colorful," and "fun," our approach to the normcore trend could be enriched with individual details, perhaps opting for cartoon prints on basic T-shirts, or preferring sweatpants to jeans. The risk of coming across as banal, then, is minimized if we consider the fact that what is "sophisticated" or "lazy" for one person can take on entirely different folds for another. A preppy sweater can be "classic" or "boyish," a leather jacket can be a punk garment but also tie into the biker world, and so on.
The option of exhibiting an exclusive, tailor-made style every day actually does not sound so evil. But with only three words at our disposal, we run the risk of getting trapped in a concept that clips the wings of every new style impulse the fashion world offers us. Social, celebrities and fashion shows bombard us hourly with new trends, fascinating but also contradictory, that far surpass the idea of clinging to a single adjective. Because of this, there will always be women in the world like Emily Ratajkowski, eternally attached to the concept of sexiness for every outfit they decide to sport, but also celebrities like Brad Pitt, who in the course of the same year can mutate from unscrupulous cowboy to champion of genderless fashion, from daddy ready for a fishing session to wild bohemian, from scruffy, disheveled rock star to stylish Hollywood actor. And it is thanks to multifaceted personalities like his that for the past few decades we have been slowly breaking free from fashion stereotypes, trying to embrace the idea that everyone can dress how he or she prefers even if it is only according to his or her daily mood, without having to feel bound to a preconception that others-or himself-are used to attributing to him or her. The "Three Words Method" at first glance, therefore, might seem like the perfect method for getting our wardrobe in order, but as time goes by, it might turn out to be "simplistic," "superficial," and "reductive." And we don't want that, right?