Here's what Alessandro Michele thinks about "House of Gucci"
The brand's creative director had his say on Ridley Scott's film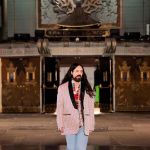 Although Ridley Scott's House of Gucci has left critics and viewers alike rather perplexed, Lady Gaga's failure to be nominated for an Oscar as Patrizia Reggiani, who had to settle for a Golden Globe nomination, has been the subject of controversy. When Alessandro Michele was asked what he thought of the film at the presentation of the Love Parade collection on Hollywood Boulevard in November, the Gucci creative director said he had not yet seen it and was not entirely sure he would. But, during an interview reported by WWD, prior to the Fall 2022 show at Milan Fashion Week where the collaboration with adidas debuted, Michele surprisingly spoke up about it.
«I joined the company when I was 30, and now I'm almost 50, and I met a lot of people who worked with the family, and they were so sophisticated, beautiful people, artists and collectors.» To then challenge the buffoonish rendering of some talented characters in real life, reduced to macchiatas in Scott's version, «How handsome Paolo [Gucci] was, how creative he was, and how well he spoke...that's the reality,» a full-fledged designer with a label to his name, portrayed by Jared Leto as a man, all things considered, of low intelligence. «They spoke good English, all the men looked so handsome and elegant, one was a big movie star in Italy,» he said, referring to patriarch Rodolfo Gucci, a famous film actor portrayed by Jeremy Irons in the film as a decadent, haughty, reclusive tycoon. Of course, Michele, who wanted to be a costume designer before becoming a stylist and who knows well the mechanisms of Hollywood knows that «a film is always something that has a point of view, but I liked that it's clear that Gucci is powerful, it's something that doesn't belong to fashion but to the imagination of the world. The proof that Gucci is pop.»
Michele's words come after those of the Gucci family itself who, shortly after the film's release in theaters, had expressed their disappointment with Ridley Scott's work, pointing out that the production had never consulted any member of the family, judging even more serious the way in which the story and the cast members described "a woman definitively condemned for having been the instigator of Maurizio Gucci's murder" as a victim in reference to Patrizia Reggiani's character.