Why are designer shoes are becoming so "ugly"?
From cyclopean sneakers to furry mules, weird has become the new beautiful
The trend of so-called "ugly shoes" is perhaps one of the longest-lived in contemporary fashion. Looking at the footwear seen in the main fashion shows, in fact, we notice that footwear has been moving further and further away from conventions and classic tradition: from the feathery shoes of Bottega Veneta, passing through the slides of JW Anderson surmounted by gargantuan gold chains and for the colorful and excessive footwear of Gucci, Sunnei and Marni up to the tanks-for-feet of Prada and Rick Owens, it almost seems that the new rule has become the disproportion, the baroque, the strangeness. All characteristics highlighted by Jacob Gallagher in a recent article on WSJ and related to the psychology of the market, as the psychologist Carolyn Mair told Vogue a few years ago, about Balenciaga's sneakers and the sculptures of the same created by Diana Rojas:
«Psychologists have established that we don't pay attention to what's 'normal,' usual, or familiar because it presents no danger. However, when we encounter something novel, our attention is drawn to it. So, in addition to the comfort and utilitarian value of these shoes, perhaps it is the desire for attention that motivates wearers».
Precisely the importance of attracting attention no longer refers to the aspirational aspect of fashion but to the identitarian one: in an increasingly massified world, dominated by social networks and algorithms, a too traditional item is anonymous and therefore invisible, while it is precisely the recognizable and, in some ways, "riskier" items that allow customers to express their identity more decisively. But historical and social factors also come into play in this dynamic: with the lockdown and the rise of smartworking, in fact, the category of the traditional, clean and anonymous "office shoe" has been weakened and consumers have preferred to invest either in more comfortable shoes for the home or in a radically different type of footwear, which expressed desires, aspirations and identity of each one in a more direct and original way. In short, consumers all over the world have experienced the need to experiment – a need that has also led brands outside the world of luxury to focus on the audacity of their proposals. Not surprisingly, between 2020 and 2021 there has been a surge in the growth of brands such as Crocs and Hoka One, with the collaborations of Salehe Bembury with New Balance and Anta (and with Crocs itself) and Rick Owens with Converse and with many of Nike's silhouettes, not least the Zoom line.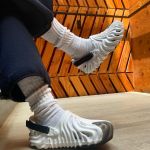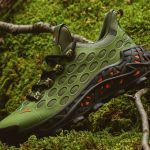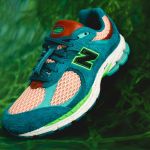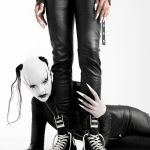 The trend does not spare even the most formal shoes, with moccasins transformed into slippers or covered with exotic logos and leathers, Chelsea boots with an increasingly accentuated toe and heel and increasingly rounded and voluminous silhouettes. But in this context, the question of market saturation must also be taken into account. In other words, in an increasingly crowded sneaker market, increasingly dense with drops, releases, debuts and collaborations, differentiating and getting noticed, but also reaching very specific segments of the audience, has become a necessity. And so there was a division between minimal-traditional brands such as JJJJound, Aimé Leon Dore or Birkenstock, all based on the cleanliness of silhouettes and colors, and other brands such as the aforementioned Hoke One or Crocs, but also Ugg or a niche brand like Rombaut, to bet instead on extravagance, on showy shapes and colorways, on prints.
Even the most minimal brands, in fact, have not anonymously followed the tradition, but have recovered the idea of the dad shoe, elevating it and making it also the signifier of an identity, of a social belonging based on cleanliness, sobriety of shapes and colors and, in some ways, nostalgia for a recent but also less chaotic past. In this sense, Justin Saunders' work with JJJJound is indicative: his latest collaboration with Padmore &Barnes is a lace-up of black leather deliberately demodé, but for this reason eloquent as a statement of aesthetics. The same could be said of the canadian designer and curator's recent collaborations with Vans and Dr. Martens as well as his personal releases such as a pair of suede hiking boots, but also a coffee blend, reading glasses and a set of dryer balls – all objects that ten years ago we would have found in the house of a hipster, so predictable, analog and traditional as to result in quirky, which, however, testify to the alignment and adherence to a lifestyle and, therefore, that say something about those who choose them.
In neither case, however, can we escape from the dynamic that is leading contemporary footwear to become increasingly "ugly" – in the sense of eccentric, bizarre, original. Even the traditional, very soft shoes of JJJJound are, in their own way, eccentric compared to the basicness of the original models; even the very popular Boston Clog of Birkenstock, which until a few years ago would have been seen only in a bowling alley, today are co-signed by Stussy and Jil Sander and have become indicative of an inclination, an identity. We should therefore perhaps talk about an upward evolution of the very idea of footwear, which has gone from a social tool differentiated by intended use (the gym shoe, the one to go out, the one for the office and so on) to a commercial-cultural phenomenon and a sign of social belonging.