The wearable cities of Louis Vuitton FW21 collection
A new and very literal definition of "urban clothing"
Today, with the Louis Vuitton show for the FW21 collection, Virgil Abloh has produced one of the most successful collections of his career. Drawing inspiration from the themes of identity and travel, the American designer elaborated his concept in the form of various stylistic solutions such as invitations to the show, embroidery and buttons in the shape of an aeroplane; and the inscription Tourist appeared on bags and suitcases. But the two elements that most caught the public's eye were two outerwear pieces that reproduce the Paris and New York skylines and a curious monogrammed leather aeroplane-shaped bag.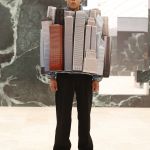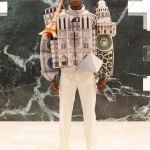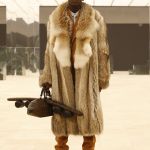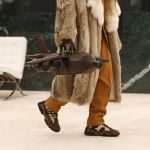 The process of turning a piece of clothing into a wearable city's miniature has been called by Abloh a monumentamorphosis. These two garments would like to symbolize the harmony achieved between Abloh's initial architectural vocation and his role as a fashion designer. This calls to mind the systemic illusion of clothes and uniforms, that is, one that combines roles with external aspects – the contrast between "tourist" and "purist", that is, the prejudice with which the "purists" of a field do not accept those who enter it as simple "tourists". As Abloh says in his notes to the show:
Defining this contrast wasn't intended as a celebration of the social structure that conceived it. Rather, it served as a reflflection of society's manmade reflflex to label humanity according to a collective perception through which belonging to one group supposedly excludes us from joining another. Applied to fashion, the idea of "Tourist vs. Purist" can echo that of low vs. high. Classififications invented to inspire aspiration, they are often entrenched in archaic images of culture: the desire to measure creativity by values such as sportswear vs. haute couture, or "streetwear" vs. tailoring.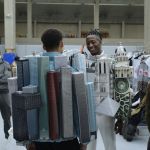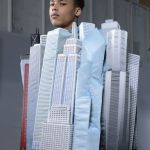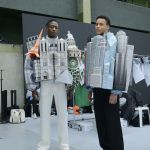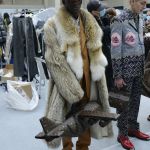 Finally, the oversized, aeroplane-shaped bag, officially called Airplane-Keepall, visually recalls not only the actual aircraft but also the paper plane – one of those un-designed objects that Abloh talks about in his notes to the show that symbolically encloses the meaning of childhood. This type of object (such as pencils, staples or, indeed, paper aeroplanes) interest Abloh in that they challenge the very concept of authorship: being devoid of an intellectual owner or provenance, they are not only democratic and universal by nature, but become a blank canvas on which to apply the famous "3% principle" of Abloh, which argues that you only need to change 3% of the design of a common object to make it extraordinary.