Here's some details about the Louis Vuitton x fragment design pop-up store
Kim Jones and Hiroshi Fujiwara reveal some preview via Instagram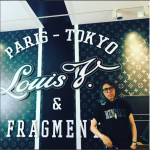 The opening date of the pop-up store and the date of release of the collaboration of Louis Vuitton x fragment design approaches: April 21.
The pop-store will open in Tokyo at The Mass & Ba-tsu Art Gallery and now we have some clues about the structure of the store. Hiroshi Fujiwara and Kim Jones were armed with Instagram to communicate not only the approach of the long-awaited event, but also the participation of Sk8thing the project.
The final touches to the interiors seem to have been given but the thing that intrigues us is the one that seems to be a banner bearing the logos of Colab. A possible clue? "Subway".




While waiting for Friday 21st, here's everything we know!