Diadora was inspired by the Italian national team for the Velez Sarsfield jerseys
Confirming the close relationship between our country and the Buenos Aires club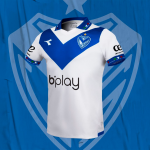 After being one of the names that shaped the aesthetics of Italian football in the 1990s, Diadora has slowly but surely disappeared from the pitches, at least from those we see frequently. With the end of the 2008/09 season, the brand's presence in Serie A ended with its sponsorship of Napoli, one of the clubs whose image it helped to shape. Since then, the glorious brand has disappeared from the shirts of Roma, Fiorentina, Bologna and Udinese, as well as the Italian national team.
However, the strong relationship with our country has found new life thanks to the agreement between the Caerano di San Marco-based company and Velez Sarsfield, a historic Buenos Aires club with obvious ties to Italy. The club was founded on 1 January 1910 and wore the tricolour on its jerseys and crest for over twenty years from 1916. President José Amalfitani was in fact the son of immigrants, one of over 600,000 in Argentina, and it was thanks to his initiative that the Remera tricolour became a classic in the Velez tradition.
Diadora therefore took it upon themselves to design the first jersey for the Argentine club, using references to Italy and their own archives, using a model that is sure to bring back great memories. We are talking about the jersey worn by the Italian national team in the two years 1992-1994 that ended with Roberto Baggio's missed penalty in Pasadena. The polo collar, here without the button that characterised the Italian jersey, and the edges of the sleeves, both decorated with the detail of the tri-coloured triangles on a blue background that characterised an entire generation, have been taken precisely from this historic jersey. The jersey is dominated by the inverted chevron in blue on a white background, which is the exact opposite of what Brescia made famous in Italy.
The presentation video of the jersey and the collaboration between Diadora and Velez Sarsfield also plays on the references that bring Italian and Argentine culture closer together, from scooters to pizza, and on the identity of the club, which is ready to enter a new era thanks also to the help of the Venetian company.