Also athletes are leaving Kanye
Both Jaylen Brown and Aaron Donald have closed their deals with Donda Sports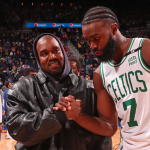 There is no sign of stopping the wave that is hitting Kanye West after his anti-Semitic remarks, and after adidas and Balenciaga, now it is the athletes of Donda Sports who are leaving the agency founded by Ye. In particular, the two most prominent athletes in the night narrowly released through their respective social media statements with which they distanced themselves from Kanye and Donda Sports, effectively ending its history in the professional world. In fact, both Boston Celtics wing Jaylen Brown and last Super Bowl MVP Aaron Donald stated that Kanye West's recent comments do not align with the values they witness and uphold in their professional and private lives.


Jaylen Brown, who is also the vice-president of the NBA Players Association, explained how "In the past 24 hours, I've been able to reflect and better understand how my previous statements lack clarity in expressing my stance against recent insensitive public remarks and actions. For that, I apologize. And in this, I seek to be as clear as possible." He was echoed by Aaron Donald, defensive mainstay of the NFL champion Los Angeles Rams, who reiterated how "the recent comments and displays of hate and antisemitism are the exact opposite of how we choose to live our lives and raise our children. We find them to be irresponsible and go against everything we believe in as a family".
Brown and Donald had both signed for Donda Sports last May, and their simultaneous exit from the agency also marks the end of Kanye's experience in sports representation. After adidas, Balenciaga, Foot Locker, and Creative Artists Agency chose in recent days to unilaterally end their relationship with Kanye, the sports world, which has always been close to the rapper, is also quickly taking a stand. After all, both the NBA and the NFL through their athletes have publicly spoken out against all forms of hatred and discrimination with protests and demonstrations that have shaken U.S. public opinion, and it was easy to imagine that the athletes themselves could not have tolerated Kanye's latest outbursts.