I feel like Jojo
But who's Jojo?
Joel Embiid is not a player as all the others. Rather, Joel Embiid is not a man as all the others. His strong irony (that we already had the opportunity to comment on) combined with a incredible talent makes him one of the most interesting "things" in NBA. His social intelligence has clearly lifted besides the crossbar of that a NBA player can do, boosting a campaign, #TrustTheProcess, that we believed dead by now. Also, Embiid is proclaimed "The Process", a nickname that he keeps on using in the most disparate situations. But "The Process" it is not the only nickname of Joel Embiid.

After the first night of the year, Embiid posted on Instagram a photo with, among the others, Ben Simmon and Noel, entitling it "Happy New Year from My Sons and I" and launching for the first time the hashtag #IFeelLikeJojo, that takes back the copy used by Kanye West for the merch of his last album "The Life of Pablo". Contemporarily, Joel Embiid has worn a practically equal shirt to those of Kanye, with the name Jojo to the place of Pablo. But who is Jojo?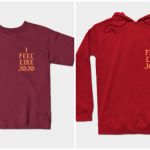 The history of that hashtag and that shirt they are not so clear. We start from the simplest things: Jojo is the original nickname of Embiid, used before "The Process" ."I feels like Jojo" instead it is the new release of OptionaliTEES, a user of Teepublic who define himself as a "fan of the 76ers." The shirt does it departs of a whole collection - renamed JOJO SZN, always on the tracks of Yeezy - and that also contains sweaters, iPhone and computer cover and cups.

But the mystery is not resolved yet: on Twitter in fact, the hashtag #iFeelLikeJojo appeared in a 2013 tweet, still before the entry of Embiid in NBA and above all very before the release of Kanye West. And still: a leak of the sweater worn by Embiid had appeared on Instagram the day of the last NBA Draft, posted by a IG account. Finally: there is a rap mixtape on Soundcloud uploaded around one month ago handed "The Feel Like Jojo" as title. Who hides then behind this nickname? We are not sure to know it but all we can do is just trust the process.