Kanye debuts in NBA with his "Yeezy" line
The adidas sneaker will be part of the 2019 collection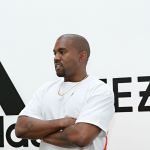 Kanye West and Twitter have a complicated relationship... and this is a known fact. This time Ye has used the social network to announce a bombshell: the Atlanta rapper has reportedly decided to debut in the basketball world. His clothing and sneaker line Yeezy, in fact, is going to enter the market of NBA sneakers, as announced on Twitter by Kanye himself.
Actually, last April West had already leaked a picture of a sample sneaker on Twitter, but since then there had been no news. On Friday, finally, Kanye tweeted a picture of some very (very very) minimal designs for a series of silhouettes for the 2019 collection. Among these, a model with the writing "basketball" on it, identical to the one showed in the leaked picture a few months ago. The caption, minimal as well, "adding basketball" is a further confirm of Yeezy's landing in the basketball world.
To see the final model we will have to wait probably until the end of 2018, but many NBA enthusiasts are already looking forward to this moment. First and foremost... Nick Young!