Kanye West is taking some of the best talent in basketball
Jahki Howard and Zion Cruz are just two of the names that have joined the Donda Academy
After launching his special academy, called Donda, just like his latest album Kanye West is snapping up some of the best prospects in the star-studded basketball scene. "It's one of those things you can't pass up", said Jalen Hooks, a promising "rookie" with 6-7 with offers and averaging 11.1 points and 8.4 rebounds per game. Little is known about the Academy in general, the only certainty is that it will be in Simi Valley, a town located in Ventura County, California. Jahki Howard has also confirmed via his Instagram profile that he will play for Donda Academy, he too has stated that he cannot miss this important occasion, stressing that Donda Academy is a perfect place to reach his full potential, grow and prepare for college. The list is getting longer and longer, and in addition to these two, two other great prospects could soon be added: Zion Cruz and Robert Dillingham.
The American rapper may be relying on adidas for his academy kits, with rumors suggesting they are willing to collaborate on this ambitious project. In view of the likely new release, KW and the German brand are working on the new Yeezy Basketball Knit. A shoe that takes its silhouette from the previous Yeezy QNTM but with a totally different fabric. But that's not all, the Donda Academy is looking for a coach who knows how to best cultivate talent, the first name on the list seems to be that of Dorell Wright, NBA legend who has played in various franchises.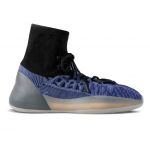 After music, fashion and many other activities, Kanye West has decided to expand his empire and invest in the world of basketball, forging new talent. It is not known whether Donda Academy will be a technological and sports-sophisticated hub like the one created by Nike, which bears the name of another star, LeBron James. Certainly, however, its intentions are more than serious, given the first two players it has practically made official, considered among the best basketball talents in America.