Venezia FC also made short films
Presented yesterday at the Venice Film Festival three short films dedicated to stories of life in the city in collaboration with Xiaomi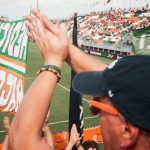 Just last year we talked about Venezia FC's idea of football. A team that in a world - the sporting one - that is always rigid and confined in its complex and traditional logics, where it is often thought that football and art cannot coexist together, the lagunari have always found a corner and a way to experiment and do what until now no club has ever tried to do.
After various initiatives with the Biennale and projects dedicated to photography, yesterday Venezia FC, on the occasion of the Venice Film Festival and in collaboration with Xiaomi, presented TEMPO, a series of three films dedicated to stories of life in the city. Using music as a leitmotif, the three stories reveal slices of everyday life that are poorly documented and at times obscured by a stereotypical and postcard-like narrative of the city and its inhabitants, with the aim of challenging this vision and instead bringing a contribution to the indispensable narrative of Venice as a city alive and to be experienced.
Three stories are intended to give voice to the spirit of an ever-growing Venetian community, driven by enterprise, creativity and community-oriented thinking, which can contribute to maintaining a way of life and to adapting it to the needs of the new generations. The protagonists of TEMPO are reggae, jazz and ska singer and saxophonist Marco Furio Forieri ("Fuoco Lento"), Venice Hardcore Festival founder Samall Ali ("A Luci Accese") and the musical and creative collective Opificio ("Ciò Che Siamo È Anche Dove").
Imagined by Venezia FC and produced in partnership with Xiaomi, TEMPO is made by marea.world, a storytelling studio based between New York and Venice, and directed by Brazilian director Filipe Zapelini, with creative direction by Camilla Glorioso, Daniel Lober and Ted Philipakos.
Yet another initiative that demonstrates how it is not only the uniqueness of the city, its stadium or its fans that makes a team like Venezia special, but the many projects undertaken - for the city but not only - that go beyond the sporting universe, touching on worlds hitherto explored by most other clubs. "Indeed, 'TEMPO' in the words of Ted Philipakos, the team's Chief Brand Officer, 'is a project that naturally developed within a broader mission to celebrate the city's unique cultural heritage, to give voice to its most important personalities and organisations, and to reinforce, in doing so, a narrative that presents Venice as a living city'.