Catania presented its new logo
It was chosen by the fans through a social vote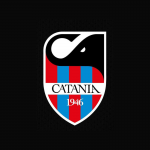 UPDATE 27- 07- 22:
It was not difficult for the fans to choose the new logo, who immediately flocked to Catania's social channels after the announcement to vote. The winner is the 'B' proposal, also designed by Bob Liuzzo, a coat of arms where traditional and innovative elements coexist, for what is the symbol of the Rossazzurra's rebirth. Voting remained open until Monday evening, but from the first hours it was already clear which of the two logos, designed by the graphic designer as an exciting addition created to evoke pride in these colours, would be chosen.
The logo has already been filed, while the certainty of affiliation arrived yesterday directly from the FIGC. Now all that remains for the new ownership is to build a team that can quickly scale all the categories in a few years, without any jams. As for the technical sponsor, the names in play are still those of Nike, Kappa and Erreà, but there seems to be no news in this regard, the company is still evaluating the right partner for the definitive relaunch of what will be the newborn Catania's aesthetics.
After the bankruptcy, the new Catania is slowly taking shape. After having officially presented the entire organisational chart, the new club headed by president Pelligra is working to build the team, find the coach, the technical sponsor and finally also a new logo. And it is precisely for the latter that the new club, which will also include two old acquaintances of Italian football like Grella and Bresciano, will let its fans choose it through a vote in comments via instagram. The two logos were designed by Bob Liuzzo, born in Catania and professor of Brand Design at the IED in Milan, and start from a concept that mixes together the Lioutru (the elephant symbol of the city) and the 'C', the initial of the Sicilian city.
The two proposals do not differ much, varying only in the shape and positioning of the words 'Catania' and '1946', the year the team was founded. A logo that will in any case only be a passing one, Pelligra's will is in fact clear: once it is bureaucratically possible, the president will buy back the old logo and the historic name. Despite the haste, given that the new company is called upon to rebuild the club in its entirety, the president wanted from the outset to let the fans have their say, not making unilateral decisions.