Catania's new collection designed by Erreà and dedicated to Etna
A limited edition capsule with a strong symbolic matrix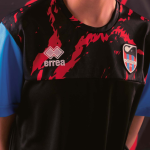 While the third shirt is now completely unobtainable in the city and in the online shop, Catania and Erreà have created a new collection that takes its inspiration from the third kit and its volcanic pattern. The collection is inspired by the cut-outs of the Brandon and Classic lines, proposing a sublimation-printed jacket, combined with two sweatshirts and two screen-printed T-shirts. On a black base, it is visually presented with anthracite, black and red veins. The colours reproduced recall those of volcanic rock and lava, which metaphorically represent ambition and competitive ardour.
To complete it all, in the products with silkscreen printing, there is also part of the new logo: the elephant, affectionately called U' Liotru, symbol of the city and best ambassador of Catania in the world. A collection that comes after years and years of absence, with the previous management and technical sponsors, the team now owned by Australian businessman Ross Pelligra has changed gear, both off and on the field where it has amassed a significant 13-point lead over the runners-up, putting (almost) promotion in the bag. A new-found enthusiasm that has also translated into a collection inspired by the mountains that the Sicilians face every day.
The capsule is on sale here, at the Catania Point, and at authorised Erreà retailers.