The Finalissima logo between Italy and Argentina
The match between the winner of Euro 2020 and Copa America 2021 will be played on June 1 in London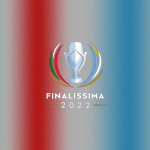 UEFA has finally confirmed the brand identity for Finalissima, the match that will pit the 2020 European Championship winners against the 2021 Copa America winners, Italy and Argentina. The match will be played on June 1st at Wembley Stadium in London, and will represent the first edition of this new competition. The logo created for the occasion takes up the Olympic laurel, a symbol of excellence, victory, protection and growth, proposed with the colors of the Italian tricolor on the left and the Argentine albiceleste on the right.


The ribbons are symbolic of the strong ties between
CONMEBOL
and
UEFA
, and their commitment to the development of soccer beyond their geographical areas. A revival twenty-nine years after the last edition of this event is the result of the long-standing collaboration between UEFA and CONMEBOL, and will serve as a catalyst for the global development of soccer - uniting countries, continents and cultures.