Virgil Abloh leaks potential Liverpool collab on IG
After Inter Milan, the new suggestion is the Reds
Virgil Abloh returns to be talked about after the Instagram stories of last week with the Inter Milan shirt. He does it using the same method and the same channel, once again speaking of the points of contact between fashion and football. Yesterday he showed a post by @hypeneverdies with a new polo from the Louis Vuitton Fall / Winter 2021-22 collection with the colors of PSG (red, white and blue) and with the mythical inverted echelon that for years has characterized some of the best jerseys around the world: from Manchester United to Baggio's Brescia, up to Club America and Vélez.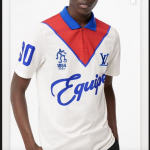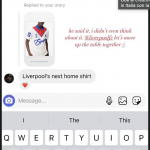 Immediately after anticipating another piece that brings the world of fashion closer to that of football, Virgil then showed the conversation with a follower who he hopes could become the next Liverpool shirt. At that point, the creative director of the French maison tags the official account of the Reds and adds "He said it. I didn't even think about it. Liverpool FC, let's move up the table together". The suggestion could tease the management of Anfield Road, always traditional in its approach but which, after having signed the new sponsorship contract with Nike, is opening up to new horizons.
One of the points of contact between Virgil and Liverpool is represented by LeBron James, friend of the Rockford creative and shareholder of the Premier League club. The two have intensified relations since March, when LeBron arrived at the All-Star Game wearing a pair of Off-White x Nike Air Force 1 Low "University Gold" customized by Virgil Abloh. Also recently the # 23 of the Lakers wore a pair of Nike Blazer Mid Off-White with a lot of writing "Virgil was here".