The hypebeast footballers
Literally Fashion Victims
We live in an age where luxury and wealth go on together, where the ostentation is the new favorite activity of millennials that look at it and celebrate it. For years, there's in progress a metamorphosis of the tradition in the more Western nations, that see actors, singers but also sports personalities show in public as influencers, dressed designer clothes and, clearly, fashion followers. Footballers are the main protagonists involved in this transformation. Watch well: for some time, there are more and more footballers that wear designer clothes, and fashion victims are increasing in the football world. The most famous fashion victim is obviously Arsenal's back Hector Bellerin photographed several times in front of a runway during the fashion weeks. After him, however, there're various sports personalities that are fashion and hype victims. Today we cite some, rallying all the brands that footballers love to wear more.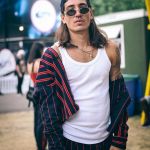 But first, it's important to attribute some credits to personal shoppers, who often help footballers in making a look off the pitch, just because, in 2019, clothes make the man. In fact, there are lots of players out of the fashion system that totally trust in personal shopper's competent purchases, giving them the necessary money to make them authentic fashion killas. That of the personal shoppers is a job to not underestimate, because not only sports personalities use them: indeed there are lots of rappers, even Italians, that request another person by them chosen to buy clothes for them, with the not simple work to transform an inconspicuous rapper in a good looking rapper thanks to the amounts of money spent. One of the most famous personal shoppers is surely Sam Morgan, a 17 years old English boy become well-known for buying clothes, sneakers, and accessories of various brands for a big part of Premier League's footballers, such as Lacazette, De Bruyne, Dele Alli, Özil and many more. Not bad for a guy that still hasn't 20. Also, this is the power of fashion.
Hector Bellerin
We couldn't start without Hector Bellerin. Prada, Raf Simons, Martine Rose, Balenciaga, and the list goes on and on. Arsenal's back has almost caused a scandal last year when he was photographed at a fashion show during the London Fashion Week while Arsenal was losing 4-2 to Nottingham Forest in the FA Cup. Since then, the Spanish footballer has attracted the insiders' esteem, even from they who don't follow football and even some criticism from many supporters. The back's outfits are always of a high standard, as the numerous pics on his Instagram profile show.
Two weeks ago was the LFW and Hector cannot miss the appointment: ready, go and here he is at Bobby Abley and Liam Hodges' fashion shows. Bellerin is always ready, even outside the green pitch.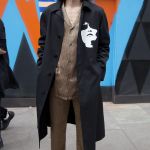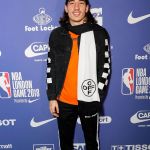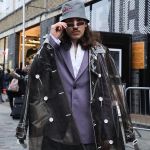 Paul Pogba
The Manchester United's French footballer is one of the most exuberant and stylish footballers in the world, and he shows it since his time at Juventus. Unforgettable is his 2016 Ballon d'Or Ceremony outfit, when Pogba showed up in a black suit with golden flowers on, leaving everyone impressed for its originality and excess.
Back in Manchester, the World Champion hasn't lost his habit and he has continued to flaunt outstanding outfits.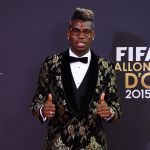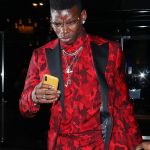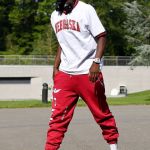 Benjamin Mendy
The Manchester's other side left back could be less talented than Pogba or less fashioned than Bellerin, but he's always a guarantee of spectacle. The former AS Monaco player's style isn't too much particular or refined but it's really over the top. Gucci, Amiri, Heron Preston and Versace dominate the French whippet's Instagram Mendy loves to show off, and wearing a nice orange Moncler is a good example to prove it.
Serge Gnabry
Gnabry, a name that a very few people could expect to be in this list. To be honest, you have to know that Bayern Munich's wing is a fashion fan and never disregards the idea of experiments new styles for the outfits he periodically posts on Instagram He is one of the few footballers that have fun in mixing trends, and he's also a friend of Hector Bellerin, which with share the passion for fashion. His greatest skill is that of to stand off good wearing anything. Serge Gnabry, a natural talent in and outside the pitch.
Tom Davies
He isn't very famous, but he deserves to. Everton's midfielder Tom Davies is a unique and original subject, with a very British style and some hipster influences at all. His shabby style makes his outfits realistic and within his reach: in fact, with his way to being he can't wear a common pair of skinny jeans and a hoodie. So here he is in Gosha Rubchinskiy x adidas or in a Balenciaga windbreaker. Keep your eyes on him.
Jesse Lingard
Jesse Lingard is one of the few footballers in the world at owning a fashion line, JLingz, which we talked about some months ago. Since then the situation isn't changed and at the moment Lingard is one of the most stylish players in Europe. Over to his own clothes, he wears YEEZY, LV, Alexander McQueen, Gucci, and other designer pieces, confirming that he's also a good player in front of a wardrobe or in a showroom, despite the very high and disapproved prices of the clothes he wears.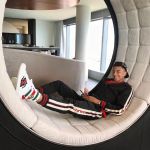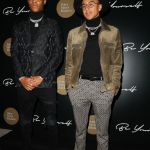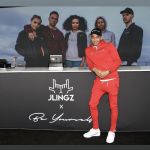 David Alaba
Gnabry's teammate David Alaba is another well-known fashion victim, capable of mixing mainstream outfits to more particular combos as we can see in his Instagram profile. The Austrian player goes from the Supreme x Louis Vuitton hoodie to the rapper outfits with jewels and sunglasses.
Gregory van der Wiel
Gregory van der Wiel is a footballer that, at the beginning of his career, was a real talent, but that, going on, has disappointed the expectations. By the way, nobody knew his capability of creating his own style. The Dutch back, for time, impresses everyone with his outfits, transforming Instagram in his land of conquest and offering free lessons of creating a fashion essay deserved of this name. van der Wiel could lose himself as a player, but he has certainly found himself as a fashion victim.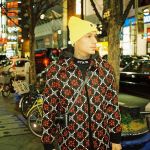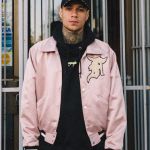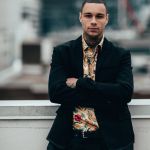 Jerome Boateng
The Bayern's defender outfits are simply nice and fashionable. Boateng shows that he's up to date between a Nike x Off-White and a Fendi bum bag and shows also that he loves trying new trends, so here he is with the Jay Z snapback and a Palm Angels tee or the Jordan IV x KAWS. Seems like in Bavaria everyone loves new experiences.
Tiemoué Bakayoko
Milan's midfielder is the only "Italian" footballer in this list and, like every French that deserves respect, he shows a good knowledge of fashion and a certain skill in exhibiting high standard outfits. Like Boateng, he wears Gucci, Off-White, Balenciaga and Supreme too, and obviously doesn't look bad with all these brands on him. Surely, Milan is the right city for him and his preferences.