The Shoe Surgeon celebrates France's victory with custom Air Jordan 1
France's national colors on the iconic sneaker
After twenty years, France won the FIFA World Cup, defeating Croatia yesterday in Moscow. For the most devoted but at the same time fashionable supporters, The Shoe Surgeon has the perfect release for you.
In celebration of the victory, the LA based designer has customized an Air Jordan 1, adding some details inspired by the old-school soccer shoe Nike Tiempo '94. The sneaker incorporates France's national colors, as well as the French Football Federation logo on the overlapping tongue. As in the most iconic AJ1 the sole and the lateral swoosh are white.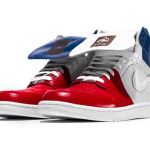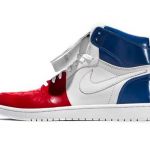 All The Shoe Surgeon's creations are hand made and you can send him your own pair of AJ1s to get a personal customization.
The France World Cup AJ1 is available online for $1200.