Paris Saint-Germain's fourth jersey is dedicated to the streets of Paris
At the highly anticipated friendly against Cristiano Ronaldo's Al-Nassr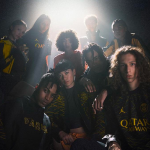 Paris Saint-Germain will unveil its fourth jersey made by Jordan at the highly anticipated friendly against Cristiano Ronaldo's Al-Nassr. The innovative and bold jersey pays homage to the City of Light. The black colour evokes the nights of great matches at the Parc des Princes, while the yellow bars on the jersey pay homage to the illuminated bars of the capital's most beautiful monument, the Eiffel Tower, which stands proudly on the club's logo.
The Paris jersey is accompanied by a full lifestyle collection of iconic Jordan Brand styles for men, women and children, which already included the pattern later chosen for the fourth jersey. Paris Saint-Germain unveils a new range that underlines its status as the coolest club in the world.
The fourth Paris Saint-Germain jersey will be available from January 23th.