Does the art world have a problem with Instagrammable art?
Why art critics don't like clicks-grabbing exhibitions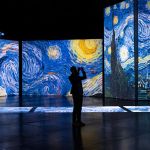 In recent years, more and more exhibitions offer immersive experiences suitable for sharing on social media such as TikTok and Instagram, even though they lack artistic vocation and depth. This was the case, for example, with the 'Van Gogh Experience' exhibition, where dozens of projectors displayed digital animations depicting hundreds of works by Dutch painter Vincent Van Gogh on walls, floors and ceilings. Visitors are invited to sit or move around the exhibition space as they please, listening to the often classical and fast-paced music that accompanies the images, and - why not - having their picture taken. Bloomberg reported that 'Immersive Van Gogh' - offered by a Canadian company in several large US cities - has sold a huge number of tickets, 3.2 million, making it the world's top attraction on the Ticketmaster website.
Some of y'all really were talking about that Van Gogh immersive experience like it wasn't just a big screensaver projected on the walls

— Rollin' (Urban Assault Vehicle) (@m0stEpic) February 8, 2023
This kind of immersive experience has been so successful that it has been replicated with other famous artists, such as Pablo Picasso, Claude Monet, Frida Kahlo and Gustav Klimt. Most of the works reproduced by this new genre of exhibition are in the public domain, as their authors are long dead, and can therefore be reinterpreted and recontextualised at relatively low cost, with graphics experts tasked with placing them within long, highly flamboyant and immersive films. «Art is used as background for posts on Instagram, which serve both to create an online memory and to show everyone that you've been there,» commented researcher Chiara Palsgraaf.
There are private companies that organise temporary exhibitions set up specifically to become the backdrop for a selfie, with garish colours and props. The "Ice Cream Museum", which was initially set up in New York and later opened in Austin, Chicago, Singapore and Shanghai, goes in this direction: the exhibition consists of a series of chaotically decorated rooms with pink walls, ice cream cones hanging from the ceiling, inflatables filling an entire room and a pool of fake candy. When its first opening was announced in 2016, the first 300,000 tickets - priced at $18 each - sold out within five days. After the Museum of Ice Cream, this kind of 'selfie museum', as it has been called by experts, opened in many other cities. In Milan and Rome, for example, in the last two years there has been the 'Balloon Museum', where - for just under 20 euros per ticket - among other things one could bathe in a tub of plastic balls. The phenomenon has been much criticised because more and more private companies are deciding to invest in 'immersive' exhibitions, attracted by the growing number of people willing to go there to share their contents on social networks.
Art critic Alex Fleming-Brown wrote on Vice:«Perhaps the most ironic thing is that the main audience for these immersive shows is on the Internet, where it is in fact impossible to experience the supposed immersive features of these exhibitions». Without having the same artistic weight, such exhibitions superficially take inspiration from art installations proposed by very important institutions in the world of contemporary art, such as the Venice Biennale, the Museum of Modern Art in New York or the Tate Modern in London. This is the case with Yayoi Kusama's Infinity Mirror Rooms and Rain Room, by the art collective Random International: although they had a huge media and public response, those works were not created specifically to be successful on social networks.
The main problem with so-called 'immersive' exhibitions is not that they «are not real art», writes journalist Kelsey McKinney on the culture website Defector. They are largely purely commercial operations that do not contribute to the work of curators of making public museums more sustainable or contributing - neither economically nor culturally - to the cultural network of the large centres they pass through: «The goals of art and the goals of the market do not intersect [...]. This is the problem with "Van Gogh Experience" type exhibitions: their intent is not education, inspiration or wonder. It is endless and certain profit. And you don't need a curator to project a painting on a wall».