Why Hollywood is bringing back stars from the past
Could the era of "fast celebrities" be over?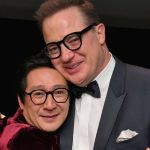 In Hollywood, 20th-century glamour has been taken away by social media, taking together with it the air of mystery that once made movie stars fascinating. Pseudo divas trying to wade through the crowd to stay relevant are trying all sorts of tricks, like Hailey Bieber's recent fake paparazzi photos, or the Kardashian family's PR tactics (Kendall's cucumber-drama just earned her an advertising contract). After fast fashion and fast food, 'fast celebrities' have arrived, a new mechanism taking over the film industry and prompting directors to dredge up figures from the past for their projects.
As previously stated in another article, it seems like the pyramid of stars of Hollywood has collapsed, or rather it seems to have changed shape. The blame falls on the online streaming industry, as well as the advent of social media and the consequent democratization of pop culture. If before becoming a star you had to do the much hated 'apprenticeships' (or at least have a mum and dad with connections in the industry), thanks to social media anyone can earn their way into Hollywood in no time. Addison Rae did just that with He's All That (2021), which made her go from dancing in her Louisiana bedroom to walking the most coveted red carpets in couture gowns in just a couple of years. Talk about rags to riches.
Both Brendan Fraser and Ke Huy Quan disappeared from Hollywood after the system turned its back on them, Fraser for speaking his truth and Quan due to a lack of opportunities for Asian actors. Both getting embraced last night was powerful and cathartic. They deserve the world. pic.twitter.com/sQtCD6Qxf4

— Ezra Cubero (@EzraCubero) January 16, 2023
Fortunately, the world of entertainment is more accessible than ever before, but a question arises: how much are newly-made cinema stars actually worth? Just as fast fashion has done with vintage fashion, the relentless cycle of actors of little substance has prompted high-caliber directors to seek reassurance in the cinema of the last Century. In some cases, creatives such as Luca Guadagnino and Steven Spielberg have bet on up-and-coming actors, respectively Taylor Russel in Bones and All (2022) and Rachel Zegler in West Side Story (2021), but this year's list of Oscar nominations clearly shows that Hollywood is finding shelter in actors from the past to ensure the success of their films.
The first figure to have made a real comeback was Brandon Fraser, chosen by Darren Aronofsky for the drama The Whale to be released on 23 February. In recent years, Fraser had left his Hollywood career behind him, later resurrected mainly thanks to fan support following a revealing interview; in the GQ article dated 2018, Fraser explains the reasons for his departure, unveiling among them an alleged sexual harassment case by a former president and member of the Hollywood Foreign Press Association. During his appearance on The Tonight Show Starring Jimmy Fallon, director Aronofsky explained his casting choice: "Once you're a movie star, you're always a movie star, and there was a time when people loved him, I had no idea about this "Brenaissance" and people going crazy over him." And it is precisely this 'Brenaissance' that people are talking about because although the actor has changed in physical terms, now lacking sex appeal, he certainly hasn't lost his charm, which is innate according to Aronofsky and admired on social media by the younger generation. Could it be true what they say online about the so-called 'dad-body'?
Like Fraser, the actor in the cult films Indiana Jones and the Temple of Doom (1984) and Goonies (1985) Ke Huy Quan has also made a comeback, recently celebrating his victory at last January's Golden Globes as Best Supporting Actor in the film Everything Everywhere All at Once (2022). Quan attributes the cause of his disappearance from the big screen the limited opportunities American cinema gave to Asian-American actors in his early career, thanking the film Crazy Rich Asians (2018) for showing him how the industry has become more inclusive. The choice for the part of Waymond Wang is said to have fallen to Quan only after its rejection by Jackie Chan, another icon of the last century who does not seem to want to give up the spotlight. The film's directors Daniel Kwan and Daniel Scheinert said they thought of Ke Huy Quan thanks to a gif on Twitter: "I was like, what is that guy up to?", Kwan explained in an interview.
It is impossible to talk about big reappearances without mentioning Golden Globe winner and Oscars nominee Michelle Yeoh, the actress starring in Everything Everywhere All at Once (2022). After suffering through her arrival in Hollywood in the 1980s (at auditions she was often asked if she could even speak English), Yeoh established herself in the industry with action films such as Tomorrow Never Dies (1997) and Crouching Tiger, Hidden Dragon (2000), and it is thanks to her stuntwoman qualities that nowadays the whole world idolizes her work in Kwan and Scheinert's latest work.
In an era where everything is 'fast', even glamour has suffered heavy blows, and that's why even the film industry has come under the clutches of the love for vintage. Films, just like fashion, have to adapt and are not afraid to turn to the past to create something new. For the likes of Fraser and Yeoh, the light emitted in the early days of their careers has proved resilient over the years. Whether the same can be said of Addison Rae and her peers, only time will tell.