5 times when designers have been inspired by the world of cinema
From McQueen's quotes to Hitchcock to Kubrick's world according to Jun Takahashi
«Films always inspire me… I have used them as visual backdrops in my shows, as they instill such an incredible atmosphere of emotion», once said Alexander McQueen. For their collections, fashion designers have always drawn inspiration from the mise-en-scenes, settings, and costumes of their favorite films, albeit some more explicitly than others. Cinematic stills have been reinvented through the eyes of designers at almost every other collection; and being in industries where bridging visions to life is a top priority, filmmakers and fashion designers have been deeply entwined for time immemorial. Ultimately, it's moments like these that are indicators of fashion and film's influence on each other–but not completely–they are also indicative of the talent of designers to incorporate different art forms into collections to create a brand-new world brought upon by fashion.
1. Ferragamo SS21 /Gattaca (Andrew Niccol, 1997)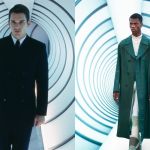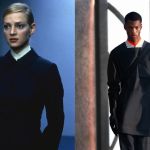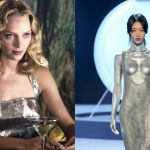 After working with famed Bones and All director Luca Guadagnino last season, Paul Andrew took an interest in film directing. For Ferragamo S/S 2021, he took matters into his own hands and "became" a filmmaker, creating his own version of a sci-fi film for the season's collection. The show space was a virtual reality and CGI tour loosely based on the premillennial cult film Gattaca, with illuminated tunnels reminiscent of Uma Thurman's trespasses. The space also had spaceships flying past windows that opened onto a futuristic city. The clothes also had its sci-fi twist — what Paul Andrew proposed was a futuristic take on classics: elevated, slim uniforms, enhanced by a dazzling fluorescent color swatch. He designed bionic bodysuits and all-in-ones inspired by motorcycle suits and had them layered under heat-processed, chrome-free-tanned leather coats. Clear biodegradable PVC pants or ponchos were also present – a reference to Blade Runner, another cult classic! – and rubberized wool suit propositions.
2. Undercover FW19 / A Clockwork Orange (Stanley Kubrick, 1971)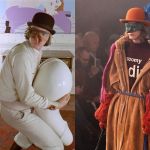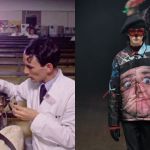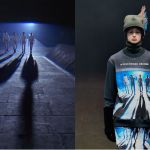 Always an avid collector of film references, Jun Takahashi reprised his Kubrick nostalgia for Undercover's FW19 collection. Remaining to this day one of the brand's most memorable collections, Takahashi brought bowler hats and walking sticks from the Droogs to the runway and also many of the frames from A Clockwork Orange, creating more subtle references with, for example, the print of Beethoven's face on a sweatshirt. Another reference to the film is the Venetian mask-which, however, is here reinterpreted in a historical key, creating a parallel between the film's protagonist, Alex de Large, and the artist Caravaggio, who is mentioned both through the invitation and through the red or reddish draperies found throughout the collection-as if to say that the madness of the criminal and the vocation of the artist are two sides of the same, problematic coin.
3. Prada FW14 / The Bitters Tears of Petra Von Kant (Rainer Werner Fassbinder, 1972)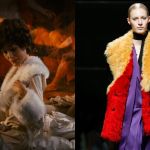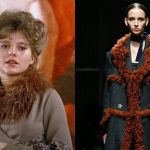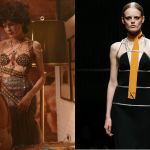 For Miuccia Prada, referencing the past – or herself, for starters – has become one of the fundamental axes of her design philosophy, and Prada F/W 2014 was no exception. Titled Act II, Prada's Fall 2014 collection was Miuccia's somber love letter to the arthouse imagery of new wave director Rainer Werner Fassbinder and his masochistic 1972 film, The Bitter Tears of Petra von Kant. Following a haughty fashion designer's tormented abandon, the film is a scathing study of Petra's relationship dynamics with other women, depicting her state of mind, hinted visually by her clothes and hair. The collection was as straightforward as it could get: shearling edgings in exchange for flashy embellishments, loose-fitting satins similar to that of 1920s flapper dresses, oversized chevron sweaters, and a lone red collarless coat. In motion, the oversized shearlings with boxy shoulder pads above the organza slips solidified the costumey notion the collection was aiming to effectuate. It was the perfect theatrical piece for the quintessential Prada woman: tough and sensitive; dramatic, but never arbitrary.
4. Alexander McQueen SS95 / The Birds (Alfred Hitchcock, 1963)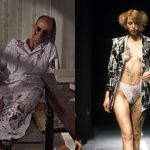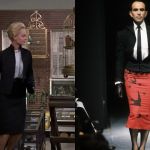 Alexander McQueen has proven himself to be in a longstanding fascination with the works of director Alfred Hitchcock's 1963 film, "The Birds". Following the thrilling yet lush imagery dedicated to the assault of a town — by, well, maniacal birds, — it was apparently one of Lee's favorite films to watch as a child while at his aunt's house.Much like the protagonist of The Birds, Alexander McQueen was strongly dedicated to making the women wearing his offerings appear poised yet striking amidst the chaos of mystery and violence. Power coats with prints of blackbirds and feathers were referenced, as well as dresses constructed of scotch tape and covered in tire marks, giving the impression of being run over by a car. The otherwise cunning and elusive protagonist aka Melanie Daniel was made vulnerable through the effect of her clothes in the movie: «This beautiful woman [was] placed into a different environment and put at extreme risk but [won] in the end. [It was] all very McQueen», says Simon Ungless, McQueen's Central Saint Martins classmate and longtime friend.
5. Raf Simons SS18 / Blade Runner (Ridley Scott, 1982)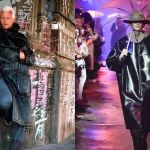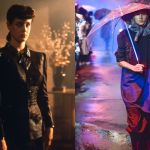 «There are juxtapositions in a different way taken out of context, basically; it's about movies–about Blade Runner–it's about cultures sliding together—that's the most important message for me», said Raf Simons. For his namesake label's S/S 2018 show space, Simons wanted to go where he was in the beginning: with youths who wanted to create their own looks, punks, new waves, and the new romantics–but in a more extreme way. It wouldn't be Raf if it wasn't met with extremity. The inspiration was clear as day, despite the darkness of the alley: from the paper lanterns printed with New Order and Joy Division graphics by Peter Saville, to the scrolling neon signs that read "Replicants" as a nod to the science fiction film Blade Runner.