Why Alessandro Michele would be the ideal creative director for Bulgari
And why jewellery would become irrelevant, or almost irrelevant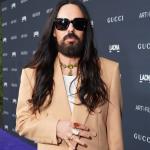 «May you always live by your passions, carried by the winds of freedom», Alessandro Michele had written at the end of November, at the very moment he announced his separation from Gucci. Since that day, rumours about the former Gucci creative director's future have multiplied: some saw him in Paris, where he was swamped by Chanel's tweed, others at Balenciaga, some even at Louis Vuitton. One voice from the French chorus seems to have debunked all the speculation circulating online to fuel another, certainly more compelling one: Alessandro Michele at the helm of Bulgari.
Not that he lacks
jewels
, scrolling through his Instagram feed and rewinding the tape of his work at Gucci. In the past, the Roman designer's boundless passion for jewellery, which he inherited from his grandmother and then turned into a veritable passion for collecting, was much discussed.
«The voices of my creatures»
, he apostrophised his jewellery in one Instagram post, or
«There is something deeply pagan in me, something I can not shake off»
in another, again about his
jewellery
on the border between pagan and pop. Leave the territory of his feed for a moment and move a little further into the realm of
gossip
. There you will find articles - the indiscretion seems to have started at
Dagospia
- talking about an Alessandro Michele seen outside Bulgari's offices near the brand's Roman headquarters in Trastevere. Gucci had launched a
High Jewellery
line under his creative direction in 2019 to further expand the brand's narrative. Drawing on the historicising experience of the 19th century
Grand Tour
, Michele constructed a mythological tale of precious souvenirs and unique pieces that reflect the virtuosity and love of craftsmanship of the Florentine maison.
A not-so-distant scenario of the legacy of
Bulgari,
a jewellery brand founded in Rome in 1884 that has made precious and coloured stones its distinctive poetic testament, passed down from generation to generation. But beyond purely technical expertise - Michele had already worked in Fendi's accessories department in the 1990s and launched the
Hortus Deliciarum
line in 2019 - Alessandro Michele's
contribution
to Bulgari would have a direct impact on the brand: if during the glory years of the
Dolce Vita
the Via Condotti shop became a popular destination for international
celebrities
and helped cement the maison's fame, Michele could be the ideal creative figure to address an already established audience of celebrities in a more sophisticated and visual way, laying the foundations for a community that sees fashion as an infinite system of expression. A discourse that can be partly overlaid with a
rebranding
of the capital itself, which underwent a fashion relaunch in July, fine-tuned by an expansion and upgrading strategy by
Alessandro Onorato
, the first councillor of the Roma Capitale junta, who had among his delegations that of fashion.
If it is permitted to speculate, it cannot be ruled out that Alessandro Michele is to be found in the Bulgari creative team, perhaps alongside
Lucia Silvestri
. If one also takes into account aspects such as the
contractual restrictions
that usually exist at the end of an employment relationship, including non-competition clauses, it is plausible that an arrival of Michele from Bulgari could be subject to relatively short time and commercial restrictions - Gucci and Bulgari belong to different corporations but are not direct competitors. From here to a second and (un)likely Hollywood on the Tiber could be a very short step indeed.