Between a few concepts and many perspectives
The return of the great classics and a new generation of designers at Milan Fashion Week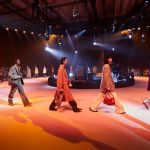 Being the first fashion week of the year, one would say that Milan had quite a bit of an expectation to live up to this menswear season. From Gucci's first show without Alessandro Michele, to Charles Jeffrey Loverboy's Milan debut, and the return of a cluster of younger brands who have made it through the other side of the pandemic and officially returned to the menswear calendar. All of which will eventually contribute to setting the tone of creativity for the year ahead.
This season, the classic brands remained classic, delivering collections that were straightforward and product based, with bits of concepts sprinkled in between. The most awaited show of the season, Gucci, delivered a collection designed by the internal team, which was simple and mainly product based. It was a collection of sensible and nicely cut pieces, and it was nothing new mainly because they weren't set on creating anything new, considering their state of transition as they await new creative direction. At Prada, things were also classic with suits that echoed the idea of a modern minimalist business youth, with bare-chested boys in suits with detachable collars, suits with work aprons styled into dresses over pants and tote bags that contained water bottles attached. Although classic, the styling somehow managed to challenge the idea of a white-collar businessman by breaking up the staples in a very sensual way. For Marco De Vincenzo's first Etro show, the vision of the brand's menswear felt amplified, in that he brought a twist to it that felt very personal. The Etro prints, the jumpers, the knits, and the skirts blended smoothly with his own vision in a way that felt cleaner and more interesting than his womenswear debut. Silvia Venturini Fendi also offered a concept of menswear that felt like an adequate balance between the masculine and feminine, with one-shouldered shirts, an array of knits shirts that turned into shawls, and a general precise vision of luxury that felt poetic and of a certain understated elegance.
While the big brands remained constant, at the same time there was also a particular appetite for change within the air, and not so much because of the massive looming cloud of curious uncertainty over Gucci's future, but it was more about the craving for the city to evolve from its reputation of being a commercial hub, by way of fresh new energy and names. In his interview, Charles Jeffrey explained that his move to Milan came from his perception of the city as a sort of graduation from London and a precursor for Paris. His show, titled "Engine Room," explored the life of working people, inspired by the costumes of artist and playwright John Byrne's 1987 work The Slab Boys Trilogy, which visually created a class system through the clothing. This brought a fresh perspective to Milan, which was the right balance of theatrics and clothing that is actually wearable. JW Anderson also approached the politics of identity in quite a theatrical way with a collection inspired by frogs, some of whom are known to have the possibility to change sex. The androgynous casting accentuated a collection that was just as fluid and had remnants of amphibian inspiration including actual graphic frog shoes and shoes that gave one the idea of webbed feet.
JordanLuca and Magliano gave their own takes on the modern man, both of which were odds yet still relevant, with JordanLuca introducing an approach that focuses on neutralizing the notions of feminine and masculine while Magliano offered up a poetic reflection in admiration of tradition and slowness. Federico Cina created a collection that was sensual but solid, while Simon Cracker, opted to rebel in a very Vivienne Westwood-like way. All in all, there was great desire and curiosity for new names this season, while the classics remain classic, there was also a great level of interest in how these new names were interpreting menswear. The results were a mix that proved to be neither street nor tailored, but a combination of various influences that, although might not have been anything new, nor anything complex, was presented through concepts that simplified yet amplified an idea.