Trends that have shaped the fashion market in 2022
From gamification to slogans, via accessories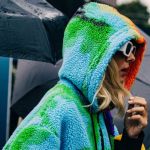 After the comfy wave that dominated much of 2020 and the big revival of glamour in 2021, 2022 seemed like a kind of equaliser when it came to fashion. Brands refocused on the physical shopping experience and organising events, relying on engagement strategies that catered to the needs of different communities. Some then (almost) appeared out of nowhere, using unconventional ways or gimmicks that we were simply not used to. In the end, accessories were the most popular and successful category for all fashion and design brands.
The hype gimmick found an interesting testing ground in satire: Brands like
Cowboys of Habit
,
Uncle Inc
and
BlugGirl200
have gone mainstream, using
TikTok
and Instagram to create viral moments thanks to T-shirts with mischievous slogans and risqué garments.
Newcastle
, UK-based Waite went viral in August when Kendall Jenner wore the T-shirt to a rodeo in Wyoming, and regularly posts memes alongside product campaigns to signal to its young clientele that the brand matches their interests.
«Basically, I am my audience. I am trying to attract like-minded people»
founder
Han Waite
told
Vogue Business
. The founders of
satirical brand
Uncle Inc have also invested in marketing on TikTok, creating engaging content based on their slogan T-shirts. «
At this point in fashion, everything has already been done»
said co-founder
Alex Holmes
.
«People want to be confused by fashion and they want clothes that start a conversation in their head. People our age want to feel unique and weird»
, he added.
Even the
streetwear
world, whose typical customer is used to queuing outside
Supreme
or Bape, has turned the
drop
event into a
gamification
experience, using fashion as merch for a culture that tends to be broad and social to create and share viral moments. At
Corteiz
's Great Da Bolo Exchange in January, droves of young fans walked through London's Soho district after the brand invited them to bring their Moncler or The North Face jackets to exchange for one from Corteiz. Corteiz then organised a
pop-up
in Paris in July, where founder Clint419 relayed the coordinates of the location, leading to a roadblock by fans desperate to grab the printed T-shirts and accessories.
Stitch
, the TikTok-based streetwear brand, has hosted a series of physical events for its
community
over the past year, including a
scavenger hunt
where customers could find founder Clouder, buy the latest collection and trade in existing Stitch products for new jewellery. In April, British streetwear brand
Unknown
organised a week-long tour of the UK in a branded double-decker bus equipped with a sound system and hundreds of rhinestone-studded hoodies. The two founders worked the tills while hundreds of young fans queued to buy, drank Havana Club rum and partied to the beat of the brand's favourite DJs. After a successful tour of the UK, the brand held successful pop-ups and
parties
in Paris, Milan and Oslo during the summer.
The real revelation this year, however, was
accessories
: the full maturity of brands like
Luar
or Coperni and the proliferation of disruptive approaches made this market more accessible.
Coperni
's Swipe, a sculptural bag with a rounded design in a range of colours, has been a solid sales driver for the company since its launch in 2019. Luar's Ana bag with a rounded handle became the brand's flagship in 2022 and has a retail price of around $350. Founder Raul Lopez won the award of the year at the CFDA Awards in November and is one of the brands to keep an eye on in 2022, according to
Lyst
, after highlighting its 53 per cent growth from 2021to 2022. The revolution has also hit the world of
footwear
, whose evolution seems to reward eye-catching designs and experimentation at the level of materials and jewellery. As
Vogue Business
reports, the trend here is based on the fact that customers now prefer to use
jewellery
as a detail to complete their outfits, rather than investing in a few pieces that they wear all the time. In short, it all leads back to a new form of
luxury
that, strengthened by the experiences of 2020 and 2021, favours a hybrid sophistication between casual and formal.