Why everyone on TikTok loves the #GetReadyWithMe trend
The behind-the-scenes look together with Zalando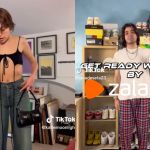 If we were to look for the reasons for TikTok's success, one of the first would certainly be its immediacy, the ability to establish a direct thread between creator and viewer, bound in a kind of virtual pact that guarantees the authenticity of the content created and published online. This is also why Fashion TikTok was one of the first to find its own target audience, attracted not only by the informative side but also by the videos in which the Tiktoker from the service shared his outfit. Originally created on Youtube as a form of vlogging, the #GetReadyWithMe videos found their sublimation in TikTok's throwaway format, where the short duration of the video fits perfectly with the idea of quick content.
Although the name suggests an active role for the viewer, the outfit is already chosen to exclude any kind of participation. But the secret to the success of #GetReadyWithMe is sharing, the idea of sharing a mundane, everyday moment like choosing an outfit, which often hides a labyrinth of decisions that require hours of thought. While on Instagram we see the finished product, on TikTok we can see the behind-the-scenes look, and the construction of the outfit, often told in minute detail, for an audience that prefers spontaneity and less structured content. In this sense, the case of Xenia Adonts is emblematic, an influencer with millions of followers who exclusively post videos on TikTok in which she dresses up - usually in luxury clothing - and who has managed to retain a large part of her audience by transporting them from a hotel room to the living room of her flat, where she does one fit check after another. Videos in which nothing happens, in which there is only one person getting dressed and nothing else. No elaborate editing, few transitions, and nothing else.
The examples are practically endless, proving the strength and appeal of a format that is easy to create and enjoyable to look at, and in which the creators often also share something from their everyday lives and lives, creating a direct connection with the one who is looking at them. The charm of #GetReadyWithMe has not spared katiemoonlight, omosapiens.xy, edoardo__sambugaro and lucadeseta23, four creators who have accepted Zalando's challenge by using a trend to tell the story of how their outfit came to be, joining the large group of fashion creators who have decided to share their clothing choices with us.