adidas' strategy after the success of the Samba
Between supply chain and retail choices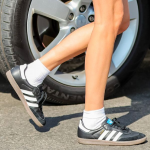 Loved by everyone from Jonah Hill to Bella Hadid, interpreted by Wales Bonner and Alessandro Michele, and a Gen Z fetish with over 4.2 billion views on TikTok, adidas Samba trainers are the sneakers of the moment. But while availability is (and never was) an issue with New Balance's 550s or Nike Dunk, it's a very different story with adidas. It's no surprise that the brand's historic model is often sold out, both in the adidas e-shop and at retailers, or that on platforms like Farfetch or second-hand sites like Depop and Vinted, the price for the few remaining examples from OG is 400 euros, more than triple the 110 euros listed, a figure that has risen compared to the 80 euros of a few months ago. The brand was quickly forced to cope with disproportionate, if partly predictable, hype and respond to an increasingly pressing demand that defied the critical aspects of a supply chain that is not yet at pre-Covid levels.
Last November, Nike was reeling when it was revealed that several orders had been canceled due to production problems related to the impact of the pandemic. adidas, under pressure from demand exceeding expectations, may be facing the same difficulties, which would be a more than a plausible explanation for the ongoing shortage of Samba OGs and the resulting price hike. Some rumors that have surfaced recently, however, seem to point to a different motivation: the desire and need to reorganize the dense network of retailers rallying around adidas and, if necessary, remove some dead wood.
The company is reportedly already trying to change the retail dynamic by ending most of its partnerships to realign and centralize its sales force. It's an operation Nike already undertook last year when the giant cut ties with independent retailers in favor of its margins. Even then, rumors had foreshadowed the strategic move, notably a confidential letter quoted by The Sunday Times in which the sporting goods giant said it was ready to end its partnership with 'dozens' of retailers by 2021. The question is whether, at a time of general fatigue in sneaker culture, adidas is joining a trend that Nike and New Balance have already experienced, and whether "starving" the market of what is currently the most sought-after model could be a successful strategy for a brand that has always struggled to find a reference silhouette.