Zara is the most popular secondhand brand in Europe
Good or bad sign?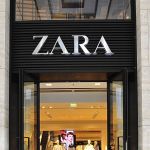 The secondhand fashion marketplace has become an essential part of the fashion industry in just a few years so much so that several brands, both high and low, have flirted with the concept of resell and archive, from Gucci to Zara to even Shein. And if, for fashion connoisseurs, secondhand platforms hide treasured archival pearls, historical pieces, and iconic designer items, for an even larger number of consumers the resell world represents the perfect equation between affordability and sustainability. This latter group of users is not looking for luxury at all; as a study recently published by Savoo found, there is not a single major fashion brand in the Top 5 most popular on secondhand platforms such as Depop, Vestiaire Collective, eBay, and ASOS Marketplace. Louis Vuitton, Gucci, and Chanel occupy the last three positions in the Top 10, while the top spot is reserved for Zara, followed closely by Nike and adidas, with H&M and Victoria's Secret occupying the fourth and fifth positions, respectively. ASOS and Levi's also feature in the ranking, at sixth and seventh positions, respectively.
The problem is not simply that capitalism produces too much, but that it produces the wrong stuff: SUVs, fast fashion and planned obsolescence instead of public transit, affordable housing and universal healthcare. It overuses resources and still fails to meet even basic needs.

— Jason Hickel (@jasonhickel) November 24, 2022
What is striking, however, is the discrepancy between average monthly searches and the number of items offered for sale. Let's take a few examples: Zara, which tops the charts just about everywhere in terms of the number of items featured, has an average of 590 monthly searches, whereas Louis Vuitton, which as we mentioned is in the eighth position in terms of the number of items featured, has the highest average of searches, 5400 per month. The discrepancy is even more evident with Victoria's Secret, which is the fifth largest brand by several articles featured on the mentioned secondhand platforms but has a very low average of 40 monthly searches. In this sense brands such as Chanel, Gucci, Prada, and Burberry are certainly the most searched after Louis Vuitton, while the more present and in some ways "common" brands are very present but relatively undesirable.
This brings us to a final consideration that is also always the usual one when it comes to fast fashion: the number of fast fashion or sportswear items the public wants to get rid of is higher than the number of times these items are searched for and therefore, presumably, sold. And since Savoo's study is devoted to the number of items of certain brands and the number of times these are searched for, but not to the actual sales figures, it is difficult to understand exactly how many of these items remain to vegetate unsold on the platforms and how many actually enter, so to speak, back into the system finding a second life. One thing, however, is certain: there are too many of them.