Why Balenciaga x adidas probably makes more sense than you think
adilenciaga is back, baby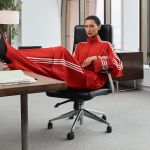 Back in May, Balenciaga and adidas left the fashion world in total shock when they unexpectedly announced that they were teaming up for a fully-fledged collection. Showcased in a New York Stock Exchange-inspired runway, while the playful collaboration stood out amongst the corporate backdrop like a sore thumb, in its weird way, Demna Gvasalia's vision worked impeccably well. Challenging the ideas of capitalism and consumerism, models covered from head to toe in glossy latex walked the runway at an abnormally fast pace, symbolizing the busy lives that the money-minded metropolitan world considers normal. While it's easy to label this partnership as a bit random, it makes way more sense than you think - and here's why. Ever since Demna took over Alexander Wang as Balenciaga's Creative Director in 2015, the Parisian fashion house has been more controversial than ever. While Wang's version of the label was considered by many to be a bit too risk-free, Gvasalia decided to completely undo this by injecting some of Vetements' almost-satirical stylings into the brand's collections. This was undoubtedly contentious, with many critics accusing the Georgian fashion designer of tarnishing Balenciaga's storied legacy, but it was necessary to bring the label back into the spotlight. By teaming up with one of the world's biggest sportswear companies, Demna was telling the world that while his adaptation of the brand was fun, it was certainly no joke. At the end of the day, adidas doesn't just let anyone use its famous Three Stripes.
Of course, this isn't the German giant's first foray into high fashion. In 2002, adidas teamed up with Yohji Yamamoto for the legendary Y-3 that's still ongoing even two decades later. The Herzogenaurach-based marque also has collections with Raf Simons and Rick Owens, and in 2016, it linked up with the aforementioned Alexander Wang for several seasons as well. However, something that connects all four of these collaborations is the fact that, while they are all iconic in their way, there's no debating that they all play it a bit safe. Even with adi's latest Prada and Gucci collections, the brands have taken already well-established silhouettes, and instead of making any drastic changes, they decided to do the bare minimum. One of the reasons that Virgil Abloh's Off-White x Nike "The Ten" collection from 2017 succeeded was that he took ten of the Swooshes' most iconic sneakers and made them his own. With bright red zip ties, deconstructed details, and plenty of Helvetica to speak of, while you could still easily recognize each of the models, they were undoubtedly Abloh's vision of them. The same could be said about Kim Jones' Dior x Air Jordan 1 High from 2020. There's no denying that these were Air Jordans, but the British designer added premium calfskin leather and intricate lace detailing that made them unquestionably Dior.
With Prada, however, the only real difference was the addition of the zippered pocket on the adidas Forum. Gucci, on the other hand, just changed the colorways and patterns on the Gazelle and that was all it did. Neither of these was the respective fashion house's version of the sneakers. If you didn't know any better, you would easily assume that they weren't collaborations at all. That's what makes the Balenciaga x adidas partnership so different. While both projects with Prada and Gucci felt relatively one-sided, that's probably because they were. adidas was the one providing the canvas and everyone else just had to stamp their logo on it. In contrast, Balenciaga seems like a genuine relationship between the two brands. Not only did Demna release his pre-distressed take of the Stan Smith, but adidas was also allowed to rework some of his most popular silhouettes as well, giving the Triple S a Superstar-inspired makeover and playing around with the Speed Trainer's sock-like design. «I always wanted to use three stripes and the logo,» explained Demna in a 2022 interview with GQ. «To be very honest with you. As a seven-year-old kid, I had an adidas tracksuit, and that was my biggest fashion moment when I was a child.»
adilenciaga also worked on a vast range of apparel and accessories, not to mention the Pantashoes from their second collection, which the industry is already calling that bitch. Set to be one of this season's must-have items, the one-of-a-kind trouser-heel hybrid has already been spotted on the feet of fashion's cool girl Bella Hadid, blurring the lines of normality and perfectly representing everything that Balenciaga x adidas stands for. In October of this year, Kanye West debuted the infamous "White Lives Matter" T-shirt at his Paris Fashion Week Yeezy Season 9 show. He then went on a tirade, spewing hateful comments about the Black Lives Matter movement, publicly bullying a Vogue fashion editor on Instagram, and attacking the Jewish community. Since then, Balenciaga and adidas have both cut ties with him, and while this is no doubt a massive shame, especially for the talented teams that worked tirelessly on both projects, at the end of the day, they don't need Ye. All they need is each other, a lot of glossy latex, and the capitalist hum of tickers at the New York Stock Exchange.