Instagram accounts are getting suspended everywhere
Did somebody say "Insta-pocalypse"?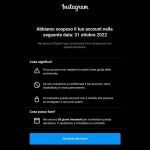 During these hours an increasing number of private Instagram accounts are dissolving into thin air while a great many users are receiving requests to verify the security of their accounts - requests that often end in unreasonable suspension. If the problem of unmotivated suspensions or random account removals has existed on Meta's platform for years, cases that have been talked about on Reddit and Quora forums but forever lost in the abyss that is Instagram's nonexistent user support, the mass deletions that are occurring around the world are shaking the foundations of a great many accounts and pages that are suddenly finding themselves without thousands of followers. So many users have therefore flocked to Twitter complaining about the disappearance of their accounts.
At the moment, the web's unanimous response seems to be memes, yet as we write this article the pages of brands, industry publications, agencies, and influencers must be surviving a hemorrhage of thousands of followers. Instagram's Twitter account has already apologized for the inconvenience with a rather lapidary and unexplanatory statement that raises fears of the worst-the first impression would suggest a sudden escalation of the bug that, for many years, has led to the suspension and removal of private accounts for no apparent reason and no chance of recovery. At the moment it would seem that the first wave of deletions has ended, although many users, past the initial scare, note that this Instagram glitch is only the latest of many that have occurred over the past few weeks, calling into question the efficiency of a social platform so important today for the communication and business of many companies and individuals. Are we facing the Insta-pocalypse or is this just trick-or-treating?