What makes a product viral?
Between algorithms and perception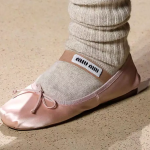 Miu Miu ballerinas, Birkenstock Boston, Prada logo tank top, UGG Taz mules, adidas Samba trainers, Diesel B-1DR belt, Patagonia Better sweater, Gucci 1953 leather loafer, Valentino Garavani mini bag, Balenciaga Swift oval sunglasses. What do these products have in common? The fact that each of them has gained a position in the Lyst index of fashion's quarterly ranking of top brands and items. Regardless of the number of likes on Instagram of an article or the number of editorials in which a certain product appears, virality is an ever-changing concept, often closely linked to the logic of social networks, sometimes dictated by chance, sometimes whispered in the marketing offices of brands. Just think of how the meaning of the term 'hype' has evolved over the years, in the past associated with the latest trainer releases, but today linked inseparably to every Bella Hadid street style garment. But what makes a product go viral? Many things, one above all: data.
To be more precise, according to experts a deliberate combination of strategy and data: "Data is the secret of life," Mark A. Cohen told The globe and mail, director of retail studies at Columbia Business School and former CEO of Sears Canada. "Brands have always had huge amounts of sales data at their disposal. But today retailers know, if not the same day, the next day, what is selling. They have almost real-time empirical data on what they sold and where." Companies monitor the data closely, either to follow the trend they expect to take off or to catch unexpected viral successes. But the most successful brands do not use it to double sales - as counter-intuitive as that may sound - but rather to keep tabs on the flow of production, as the biggest challenge of viral trends is not to make them explode, but to predict how long they will remain in vogue and how much should be invested to meet the demand. Sales data is joined by predictive algorithms, a tool that helps brands anticipate what will be sold in the future and even which products to stock in a given location and in what quantity, following a logic similar to the algorithms that define the seemingly random feed of Instagram and TikTok. A methodological strategy for fast fashion brands reaches dizzying heights, as in the case of Zara, which can take a product from sketch to shop in 13 weeks, reducing the delivery time to just two weeks if necessary. But the company rarely repeats a product exactly. Instead, it will capitalize on the trend by releasing new color variants, available only in certain markets in a strategic sense.
How many of the products we compulsively see on passers-by are the result of a personal taste or a temporary trend or even a particular necessity linked to a given moment in history such as loungewear during Covid, and how many others are the result of a pattern that experts saw coming from afar or have planned? The answer is probably somewhere in between. Our perceptions are sometimes ephemeral and partial, how many times have we noticed the same product on a loop on our For You page believing it to be viral, from beauty products to candles, from sneakers to outwear, and confronting a friend we were amazed that they didn't even know it existed? «You cannot talk about Internet culture or fashion without talking about a sense of belonging,» says Armida Ascano, Trend Hunter's insights manager. «Virality is the desire of people to resonate not only with an item but also with each other. We know that when it comes to these viral fashion trends, they not only attracted attention but also gave rise to small mini-communities almost immediately.» We have come to such a frenzied alternation in the virality of trends that many seem to go off the wall, self-produce, run out of steam and start up again at very narrow intervals. Anyone who loves fashion feels like a participant in a consumerist process that becomes more and more frenetic year by year, although intimately always the same, and those who suffer, in the end, are our finances and the environment.