How glam rock influenced the genderless fashion of today's singers
Between freedom and prohibition
«What women wear. What men wear. For me it's not a question of that». Harry Styles pretends not to know it, but seduction is in his blood. His trump card, contrary to what you might think, is not his music, but the look the singer has created together with his stylist Harry Lambert: extremely sexy, but paradoxically heedless of sexuality. Just like Timothée Chalamet, Billie Eilish, and Yungblud, the very young people of the jet set are teaching us that today gender identity can become something fluid but above all free from traditional stereotypes about what men and women can and cannot wear. And gender, after all, can be played with: one of the most appealing ways to do so is precisely through clothes. With his stylistic revolution Harry Styles has been bringing an ultra-sophisticated, chic and provocative genderfluid trend to the stage for the past few years, freely inspiring countless artists and celebrities, from Jack Dylan Grazer to Måneskin. Multifaceted and avant-garde, Harry has proven to be the right man at the right time. But his sought-after way of dressing has well-founded roots within the British music scene: in fact, the former One Direction man is the prom king and queen at a college where only glam rock is played.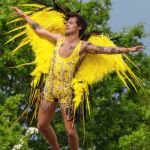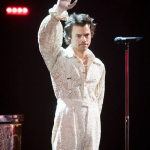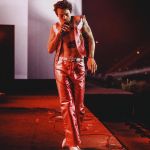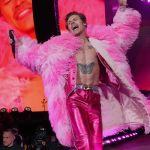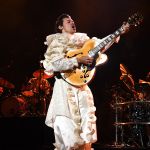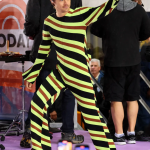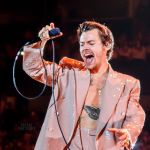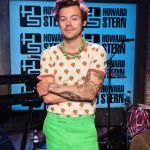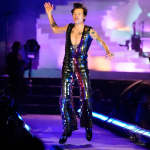 In the 1970s, glam rock swooped into the United Kingdom with the conceit of uniting two aesthetically opposite universes, but both fierce and provocative: rock, which after a decade of glossy aesthetics was beginning to evoke wild influences, and the glamour of movie divas, made up of feathers, sky-high heels, glitter, and make-up. Glam music icons presented themselves to the public as strutting rock stars, adorned with boas and skimpy outfits, making sexual anarchy their stage leitmotif. David Bowie, with his technicolor catsuits alternating with power looks, asymmetrical haircut, and Martian platform boots, was the perfect ensemble of a feverish trend that gave voice to entire generations of rebels, both men and women, who made it their fashion benchmark. And while Harry Styles' music is a far cry from the shamelessness of '70s and '80s rock, many of his bedroom poster looks are loosely inspired by those of the White Duke, from maxi ties to high-waisted pants with lacquered buttons and suspenders. Then again, there is no denying, in fashion history there is a before and an after David Bowie: his flashy outfits and ambiguous attitude were the solid foundation on which the fluid fashion of our century was built.
Many, however, do not know that in the beginning it was Marc Bolan, former model and frontman of T.Rex, who laid the foundations of glam-glitter imagery and influenced his friend Ziggy Stardust during his performances. Inspired by Syd Barrett's psychedelia and Tolkien's dragons, Marc Bolan was the dandy of the new rock music who, outrageous and eccentric, boasted an unprecedented stage presence by carefully selecting his outfits made of leopard-print jackets, plunging necklines and extravagant top hats. His gender-bender attitude and stylistic footsteps were an inspiration to countless artists, from Gary Glitter to the New York Dolls to rock baronet Elton John, with his pharaonic costumes and ever-precious sunglasses. But the pinnacle of transgression was reached with the cry of Freddie Mercury, the most charismatic frontman in music history, a timeless glam and queer icon. With his transformative looks that migrated from white tank tops and jeans to bodysuits and wrap-around capes, the British rock star asserted his sexual freedom through brash and casual clothing.
From that point on, it was as if the tones of genderfluid aesthetics, after having manifested their highest expression, automatically lowered to a gradual normalization. After all, every revolution needs an initial element of rupture, but in order to accomplish itself, it must be able to fit concretely into the mainstream. And without the subversive icons of the last century, we currently would not be able to enjoy not only the impeccable style of Harry Styles, but also the endless facets of fashion, art and music, from which without realizing it we draw every day. Of course, gender freedom was not achieved through a war of boas and sequins, but we today like to pay homage to her even so, celebrating her through her fashion triumphs.