Water is the unique protagonist of Google's installation for the Salone del Mobile
An immersive experience that explores our connection with one of the founding elements of life on earth
For the new edition of the Salone del Mobile of Milan, the inspiration behind the installation presented by Google is water, an unique element that becomes the protagonist of an immersive and sensorial experience that explores our connection with one of the founding elements of life on earth. It is called Shaped by Water and was created by Ivy Ross, Google's vice president of hardware design, and her design team in collaboration with Lachlan Turczan, a Los Angeles-based artist who creates light works, water sculptures and films that explore natural phenomena and sound visualisation. «Salone gives us a chance to show up as thought leaders in design, and share critical aspects of our creative process. For 2023, through Shaped by Water we're striving to do this by showing how one of the most powerful compounds in the natural world — water – served as the muse for Google's latest hardware design» says Ross, who prior to joining Google in 2016 held executive positions at several companies, including Calvin Klein, Swatch, Coach, Mattel, Bausch & Lomb and Gap, and has won 56 different design awards.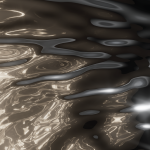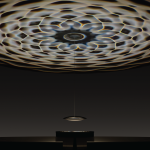 When guests enter the exhibition, they first experience water as an invisible actor in shimmering bowls designed to examine the optical and sonic qualities of the liquid. The water resonates in the various containers responding to a person's proximity as if in dialogue with the viewer. When guests gather and move around the bowls, their shared presence in fact triggers an energetic conversation that is reflected in increased activity and changes in the wave patterns formed in the water. From there, viewers will move on to a full sensory experience in which the water reveals a luminous, immersive work of art: as guests sit and relax, music is used to create wave patterns in real time, displaying ever-changing images. Finally, participants will have the opportunity to contemplate the water up close by experiencing how it inspired the design of Google's new hardware portfolio that they will find on display.
«Given our commitment to sustainability, the Google Hardware design team has always looked to elements in the natural world for inspiration. During Covid, the team was drawn to water because of its unique quality to adapt in response to its surroundings–essentially, its resilience. From there, my design team observed and started to play with what we came to understand as an intrinsic tension. Water is a study of opposing forces: abundant yet precious, powerful yet yielding, transparent yet reflective, and formless yet formative. In particular, watching the way water responds and shapes itself to its surroundings has informed the shapes of various products like the Pixel Watch and Nest Wifi Pro» says Ivy Ross, pointing out that observing the way water reacts to and shapes its environment has inspired various products such as the Pixel Watch and the Nest Wifi Pro. And when asked about the potential of the relationship between art and science, she replies: «No doubt, together these fields, when united in more progressive ways, could solve some of the biggest problems of our time.»
Shaped by Water will be exhibited at Garage 21 from 17 to 23 April 2023.