Soccer and the Beautiful City, interview with Orlando City's creative director
Mark Lowyns told us about how football is evolving in America and his team's plans
With the new MLS season starting on 25 February, the culmination of a fascinating process that has worked to create hype and excitement in recent months has arrived. The US national team's performance at the World Cup in Qatar and the preparations for the 2026 tournament have created momentum for American football and MLS. Armed with novelty, change and innovation, the league has the stated goal of surpassing the likes of the NHL and MLB and establishing itself as a force in the world of US professional sports.
And in this path of exponential growth, one cannot fail to mention Orlando City, one of the most promising teams on the American scene that stands out for its unique aesthetic. Indeed, the Florida team has a unique colour that few in football have adopted, purple. Mark Lowyns, the club's creative director, told us how one of their kits is created and designed, where every year they try to enhance as much as possible their heritage, consisting not only of a colour worn practically only by Anderlecht and Fiorentina, but also of the heritage the team has built up over time. And if this basic colour does not excite you, suffice it to say that Orlando City was a club capable of bringing Kaka, in his first year in MLS. The Brazilian fantasist, who over time has written chapters of history with AC Milan, was the club's leading scorer in the top league. A club that has made great strides, has built its own 25,000-seat stadium, and this year's jersey is dedicated to the hottest fringe that never stops following the team wherever it is. And after years of settling in, the Beautiful City players are ready to surprise, looking for that title that has never arrived but which everyone dreams of.
To give us the best possible introduction to this world of purple jerseys, a beautiful lion logo and to find out how one of their jerseys is designed, we had a chat with one of the protagonists. Together with Mark Lowyns, we delved into the twists and turns of MLS, getting the behind-the-scenes story of the Florida club and beyond.
Where does football stand in America? How do you rate the growth of the MLS?
Football is still a developing sport here in the United States. Although the MLS is already 29 years old and has grown to 29 teams its still battling the NBA and NFL for popularity. The sport has evolved to a place where American born and MLS raised players are plying their trade in the Premier League, La Liga and Serie A cementing our place in the global football community. The MLS has become a place to grow for young talent and with fervent fanbases popping up in challenger cities and the advent of global coverage with the new Apple TV deal, the stage has been set for another period of exponential growth as we look forward to the World Cup in '26
Orlando City has a very particular colour, how do you make one of your jerseys? What do you think of the now increasingly close relationship between football and fashion?
Yes, we are very proud of our Purple. There are very few teams around the world who wear it and we love how unique that is. We want to develop our heritage with that color alongside clubs like Anderlecht, Fiorentina and Real Madrid.
Football and Fashion are merging now more than ever before. Terrace style and its connection to adventure, danger and travel are what make football intriguing from a fashion perspective. Recently the world has watched as typical high fashion or luxury houses mingle with urban street culture, skateboarding, graffiti and hip hop. So European tradition inspired by American counter culture. The football version of that equation flips it on its head and spins it through a multicultural blender. Street culture around the world manifests itself in football fandom creating the ultimate mood board for clubs and brands to learn from.
Unlike in Europe, in MLS there is a single sponsor, what is it like working with adidas? Do you have a lot of freedom in design?

Yes our technical partner sponsorship here in the MLS is league wide which is unique for global football but not for American sport. Adidas are great partners who have helped create a collaborative ecosystem where clubs, the brand and the league work together to develop kit designs.
To create a kit is a 2 year process where Adidas leads the charge and the club helps illuminate narratives, club heritage and local insights to inspire their design and product teams.


What rules must be followed to design a jersey in MLS? And for Orlando jerseys in general? 

There are a number of considerations to address when designing an Orlando City kit. From a competitive standpoint the kit must comply with MLS regulations around color and clarity. As a club we want our identity to shine through in the design and resonate with our supporters.
Where does the inspiration for this year's jerseys come from?

This year's kit is inspired by our supporters section dubbed The Wall. When our stadium was built in 2017 it was America's first safe standing supporters section and still is the largest. This design is an homage to those who get behind the club week in and week out year over year. Adorning the front of the jersey is a pattern replicating that of a wall, an embodiment of the Lions' supporters: the individual bricks that come together to form an object stronger than the sum of its parts. Designs on the stitching, neck and Jock Tag reminds all fans to "Man Every Wall", a long-lasting Club mantra that unites the Central Florida community in supporting its home Club both on and off the field.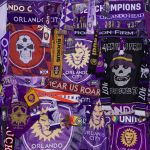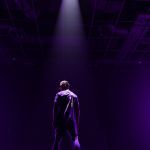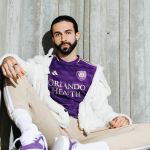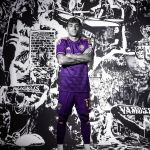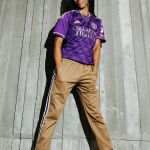 Given the club's heritage, do you think we can expect special shirts or collaborations during the year?
Is there a particular brand you would like to collaborate with?
 Yes, we've got some interesting things planned for this spring / summer this year, There are a few brands that we would like to collaborate with that we are already laying the groundwork for future projects. As always there are so many interesting brands, artists, designers, photographers and friends we would love to collaborate with once we blaze the path to do so!
Is there a big project you are inspired by? Is there an Italian team you particularly follow?
The big project that inspires me personally and is probably cliché to mention is how Virgil Abloh transformed traditional fashion with his work at LV. He used his platform to enlighten the world to graffiti, skate, hip hop and dance music / DJ subcultures and change the history of one of the world's elite brands. I wouldn't call myself a supporter of a particular Italian club but I've been lucky to work closely on projects with Inter Milan, Roma and Venezia so I make sure to keep up with those three in particular. As a kid growing up I was fascinated with AC Milan and Napoli and have always been drawn to those clubs heritage and legacy. Ultimately I guess you can say that Im an admirer of Italian football culture at large.
Football and fashion are becoming more and more closely linked, do you think there will be space for that in America too?
Absolutely. The blueprint for sport and pop culture crossover was developed in America during the 90s when the relationship between hip hop, sneaker culture and basketball blossomed. The world stood up and took notice so we've seen the global football community use those examples as inspiration in the last decade and of course it will come back to our shores in a new form.
What is football for you?
Football for me is the World. As a young boy growing up trying to learn about the sport I loved in the US, it was about curiosity, digging and discovery. It was not American at that time – it has been and always will be the Worlds Game. It transcends language, geography, religion and class. It's the world's greatest unifier. It has taken me around the world and back, introduced me to food, music and lifelong friends and for that, I do what I do to try and give back to this game that has changed my life.