What Infantino's white Stan Smiths tell us
"I'm the cool president"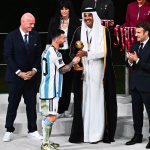 Shoes, a wise man once said, are the mirror of the soul and Gianni Infantino would love to be as clean and spotless as his FIFA custom-made adidas Stan Smiths, with which he honoured both winners and losers on Sunday night. The white trainers under Infantino's smart suit are a testament to his desire to be young, cool and, above all, different from the boring FIFA officials who have certainly done nothing to make themselves look good lately.
Needless to say, FIFA is still plagued by corruption scandals and its reputation is not as shiny as Infantino's trainers. The latter, heedless of the incessant criticism he faced during what he himself described as the "Best World Cup ever" (having also described it as such in Russia four years ago), chose a look that he thought would spur on the new generation but eventually became a Mr. Burns meme.
So while the Emir of Qatar, Tamim bin Hamad al-Thani, dressed Leo Messi in traditional Arab holiday garb, Infantino admired him in his dark blue suit and white adidas Stan Smiths, a shoe that has never gone out of fashion over the years thanks to its ability to transform and reinvent itself like a blank canvas. The trainers with the face of the famous US tennis player have stood the test of time and have recently found new happiness with the revival of adidas' vintage aesthetic, led by the Samba.
Granted, the Stan Smiths on Infantino's feet do not have the same appeal as those worn by Phoebe Philo at the end of the Celine fashion shows or A$AP Rocky in his New Normal period, but they so cement the close relationship between the German company and FIFA, whose partner it has been since the 1970s, that they are now inseparable. So it would not have been difficult for the president to get a custom-made model to present at the most important moment of the year. Perhaps he should have looked after something else rather than trying to look cool and hopelessly out of place.