The Morocco jersey is unobtainable
The same fate had befallen Japan but after the feat of the African selection everything changed
Every edition of the World Cup there are jerseys destined to remain in history, not so much for their aesthetics, but for the results achieved with it. In the first winter edition in the history of this competition, the jersey that will be remembered most of all, and which is obviously one of the best-selling of this competition along with those of Japan and Mexico, is obviously that of Morocco. The national team coached by Walid Regragui is making the Maghreb and an entire continent dream with an extraordinary feat, first beating Cristiano Ronaldo's Portugal to reach the coveted World Cup semi-final in Qatar. After Spain and Portugal tonight, Morocco will face France for a challenge that goes beyond football but also embraces other spheres as the African nation was a French protectorate from 1912 to 1956. And given the number of fans who took to the streets during this World Cup, the jersey could only sell out, making it almost impossible to buy. Obviously, the German brand is planning a restock, while waiting to see if the selection will play its first final, which could make sales skyrocket.
Morocco is undoubtedly one of the best realities of African football: despite the unexpected elimination during the 2019 African Cup of Nations, on penalty kicks at the hands of Benin, the Moroccan squad includes players of the highest calibre, many of whom were born and raised in Europe, and the local federation has in recent years repeatedly pushed for important bids, such as the one submitted for the 2026 World Cup (later awarded to the USA, Canada and Mexico) and the official one for the 2030 World Cup.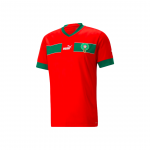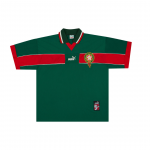 But beyond the undisputed quality seen on the fields of Qatar, Morocco's decision by PUMA to reopen its archives and produce a shirt entirely inspired by the one worn in the 1998 World Cup in France did not go unnoticed. As you can clearly see, the German brand has reversed the red and green colours of the flag and eliminated the collar, but kept the same design with a central band interrupted only by 'The cat' logo. That edition was not a particularly lucky one for Morocco, which, despite the four points it won, narrowly missed out on the final stages. Years later, Morocco has achieved an unthinkable goal and who knows, maybe today another chapter of what is a real fairytale can be written with a jersey that is now definitively in history.