The 10 most followed football clubs on Instagram
We analyzed the data collected by IQUII Sport and presented in the last report
Punctual and detailed as usual, the 18th edition of the IQUII Sport report is out: the Italian company who since 2011, have massively analyzed the data relating to the six top European leagues (the five best-known plus the Portuguese Primeira Liga), studying the numbers of the 237 first and second division clubs in relation to the 'weight' of the brands, the performance of the individual players and the presence on social networks: Facebook, Twitter, Instagram and YouTube. What comes out is a very interesting infographic that tells us a lot about the current state of football, and above all how much it has changed compared to previous quantitative analyzes.
Among the many ideas that come out giving an in-depth look at the file there is undoubtedly the data concerning the presence of European clubs on Instagram, the social network that is taking the stage most and also the one that is growing the most.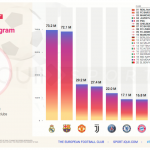 The Serie A clubs, as we know very well, are still quite far from occupying the top positions: the only exception, and a confirmation towards the past reports, is represented (obviously) by Juventus, which occupies the fourth place with 27.4 million fans behind Manchester United (29.2 million) and above all the two top Spanish clubs, apparently unreachable and paired in the lead very close to each other: Real Madrid (73.2) and Barcelona (72.1). The current Serie A champions, however, boasts a very positive growth trend (4.96%) compared to the last survey, much lower, however, compared to the one registered at the fresh European champions, Liverpool, stable at the eighth place but with a 9.55% increase. To find another Italian club you have to exit from the top ten, all unchanged and occupied by five English teams, and slide up to 13th place, where AC Milan is placed (6 million). Behind the Rossoneri we find Inter Milan in 15th place (3 million), AS Roma in the 17th (2.6) and Naples in the 18th (1.5).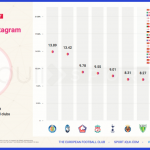 Another very interesting overview concerns the top-tier clubs that have grown the most in the last month: thanks to the recent performances that have earned a place in the next Europa League group stage Getafe obtained a +13.89, the highest figure of all followed by that of Atalanta, which benefited from a satisfactory +13.42 thanks to the incredible third place spot in the last Serie A season. Behind, very well also Lille, another team that we will see in the next Champions League (+9,78%), the two Madrid finalists: Liverpool (9.55%) and Tottenham (9.01%) and Villarreal (+8.31), able to avoid the relegation from La Liga only in the last gamedays.
To take a closer look at the report, you can download it here.