social serie a - aprile
IQUII Sport, a company that deals with digital consultancy in the sports field, has published the new update of the "The European Football Report", an analysis of more than 250 clubs that studies the online presence of the teams and their respective players on the main social platforms (Facebook, Twitter, Instagram, YouTube and TikTok).
The rankings of the various social networks did not register any particular variations between April 15 and May 15: as regards the Italians, Roma was overtaken by Wolverhampton on YouTube at the bottom of the ranking;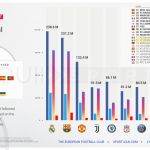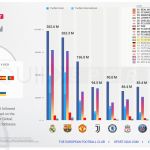 On TikTok instead Real Madrid gains the second position behind Barcelona, overtaking Liverpool with a growth of over 19% of followers. Milan also did well, gaining almost 23% more followers in a single month, probably due to the virtual concert that had DJ Khaled as host and as guests Alicia Keys and Kelly Rowland, a trio that together combines 50 million followers . In general, these are statistics that are not surprising at all, given that the aforementioned teams are in the ranking of the 7 teams with the most fans in the world.
In the ranking that includes Facebook, Instagram, Twitter and YouTube, however, Inter is the club that records the highest growth among the top 20 top European clubs. The Nerazzurri grew by 2.94% and remained in 11th place with 31 million followers, behind Milan (40.7 million) which grew by + 1.07% and Juventus (+ 1.05%).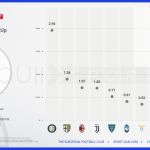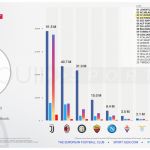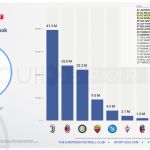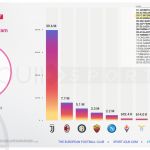 As we anticipated a few weeks ago, the constant growth of the social numbers of the Turinese team is associated with the presence of Cristiano Ronaldo - as well as the most followed man in the world on Instagram - while the rise of Inter could be justified by the campaigns that for a few weeks are depopulating on the Nerazzurri social networks including the latest, #timeless2010, which celebrates the tenth anniversary since the victory of the triple.
Returning to the statistics concerning the teams of the whole Serie A, a second ranking, which instead contains Twitter and TikTok, positions Inter again in front of everyone with a growth of followers of 3.94% and, also in this case, the Nerazzurri follow Milan (+ 1.62%), while Juventus are fourth (94 million, + 1.03%).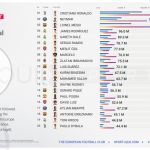 Looking at the players instead, as already said Cristiano Ronaldo maintains the top of the ranking with a growth of 1.76% in the last month with a total follower - between FB, IG and Twitter - which reaches 426 million. Neymar ranks second with a total of 245.5 million followers, chased by Lionel Messi (+ 1.30%) at 241.2 million.