Dress Like Pep Guardiola
Have a look at his cool wardrobe
I think there is no discussion about it, Pep Guardiola is the coach who dresses better on Earth. Sitting on the bench with style is important, there are those who do it without giving the least importance to what they wear - Sarri acrylic social suits, classic corporate uniforms like Gattuso, hats of dubious taste like those of Mr. Iachini - and c ' is who is almost obsessed with the look - Thomas Tuchel since he is impeccable at PSG, Hervé Renard with his ubiquitous white shirt, Joachim Loew always very precise - Pep is certainly part of the second category.
There is a parallel between the attention that the Catalan coach puts in his training methods and in the preparation of the matches and the one with which he chooses the jacket, the sweater or the shoes to wear to go on the bench. The image that Pep that gives of itself at an extremely chic man, who knows what he likes and does not hide it. Stone Island jackets and sweaters, DSQUARED2 shoes, never betray themselves.
To make you understand how much Pep is also valued for the garments he wears, at the end of last year's Carabao Cup semi-final against Bristol City, defender Aden Flint instead of swapping his jersey with an opponent thought well to go to the Manchester coach City and ask him: "Hey Pep, would you like to swap your Stone Island jacket with my shirt? And then, why do you remove the badge from the jackets?". Guardiola has kindly declined the offer, evidently, he is extremely jealous of his wardrobe. Flint then told everything about Twitter making the story go viral.
THIRD EYE: Bristol City's Aden Flint thought it was the perfect occasion to ask Pep Guardiola why he's taken the Stone Island badge off his bomber jacket at the end of last night's game pic.twitter.com/rZZ2JFCj5A

— Soccer AM (@SoccerAM) 24 gennaio 2018
Despite being very far from my way of dressing I love the Guardiola outfits, more than anything else I envy the ability to know how to perfectly choose the clothes that among other things bring with extreme ease, everything is always perfect and at the same time simple.
Never a pants slightly oversized, never a sweater with sleeves longer, never anything out of place. If you too, as I feel admiration (and I admit it also a bit 'of envy), not only for the football that Guardiola has been spreading for years but also for the incredible elegance of Pep, then I'll give you a present.
If you want to dress like Guardiola you are in the right place.
Stone Island and Champions League
Pep on important occasions tends to bring out the best, here we see him committed to giving guidance during a Champions League match "wrapped" by outerwear from the brand founded by Massimo Osti. To avoid disfiguring we recommend the Stone Island LIGHT SOFT SHELL-R jacket, clean and simple just like the style of Guardiola teaches.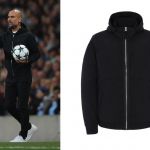 Classic is the key
If the blue turtleneck sweater is not a classic then there is no classic. In this case, Pep puts a wide ribbed one combined with a gray coat. The item to have in this case is a nice pullover with high collar in wool and embossed Lacoste cotton, perfect.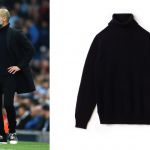 Sneakers on the pitch
Comfort and style. Pep is an aficionados of the DSQUARED2 sneakers, in this case, he wears a pair of Black Bronx Hip Hop Rapper's Delight Sneakers.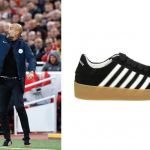 Good Scarf
How much do Guardiola scarves like? A lot. It puts all kinds (I also saw the wool neck warmers to raise the hairs of the arms) but in this case, our arbiter elegantiae is not wrong and puts a nice black, clean. We suggest you a scarf Acne Studios Canada New oversized in wool. Black is Black.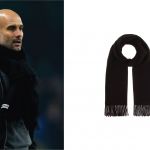 Not just medals around the neck
When he was at Barça Guardiola he used to wear the suit. Gray jacket and trousers and a strictly thin tie. The last item to complete an ideal outfit is a tight silk tie with Burberry chain print.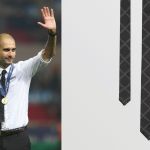 Bonus Track: The Flat Hat
He's never been on the bench but it's an item that the Man City coach loves to wear "off the field". British taste for a 100% Catalan. He could not miss. If you want a classic, we recommend this one Jaxon & James Hats Tweed Flat Cap.