When Guardiola took to the catwalk
The Manchester City coach was also a pioneer in this
As Manchester City return from Bavaria in their DSquared suits by private jet after beating Bayern Munich in the Champions League semi-finals, pundits and fans are speculating that the Cityzens are now favourites to win the elusive first Champions League trophy. The man at the helm for seven years now, Pep Guardiola, oozes style. Pep characteristically oozes style. His touchline attire is almost always flawless. Each side he has managed has displayed the deftness of a ballerina's touch while simultaneously ripping their opponent's heart out with breakneck transitional play.

However, when looking through the annals of Guardiolan history, there is a brief point back in 1993 during the El Boig de Can Fanga shows that could be argued to be the catalytic point at which Pep fully ingested and understood the nature and importance of style. In the contemporary it is commonplace to see athletic stars from various disciplines adorn various catwalk events clad in the latest pieces from a range of design houses. Last year, young Real Madrid midfielder Eduardo Camavinga was the first footballer to walk the catwalk for Balenciaga, Juventus striker Moise Kean walked the catwalk for Rhude. Additionally, Hector Bellerin has been spotted at many fashion shows, most notably walking for the late Virgil Abloh's SS2020 Louis Vuitton show. My point is that today, these sights are far from uncommon, in fact, they are almost expected.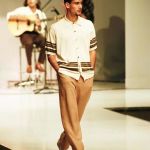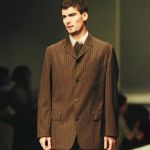 Yet, this was not the case in 1993 when Pep Guardiola opted to step foot on the world fashion stage. Footballers, whilst fashionable, were encouraged to stick within the white-lined perimeter of the pitch. Pep, being somewhat of an outstanding outlier, chose to ignore the sensibilities of the time and indulge in another of his passions, a distinctly modern approach some would suggest.We can see Guardiola walking two full Antonio Miro outfits, the first a rather oversized yet somehow incredibly sculpted brunette suit, fully buttoned down complimented with a white shirt, black shoes, and black tie. The second outfit is far more suited to the beautiful coastlines of the Mediterranean; a white polo shirt with green and hazel striped detailing on the sleeve and lower torso has been paired with some straight-legged loose-fitting milk-chocolate trousers and some soft white sneakers. Both outfits are remarkably different yet unquestionably Guardiolan.
Speaking with Mundial magazine, Antonio Miro's son, David, explained that whilst the public reaction towards Pep's presence at the show was overwhelmingly positive, a certain Johan Cruyff was less than impressed: "Pep asked my father in the 90s if he could model for him. My dad was an FC Barcelona supporter, so he liked the idea and said yes… Johan Cruyff punished Pep afterwards for being unprofessional. When some years later Barcelona's defender Gerard Pique asked the same of my father, Guardiola didn't let him… The funny thing about it all is that every single garment Guardiola wore in that show was sold out in a few days."
Evidently, Pep opted to focus on the words of Cruyff and focus on football rather than get caught up in the tumbling madness of global high fashion. As is typical when Johan Cruyff speaks, his words carry great meaning, meaning that Pep evidently understood. Fast-forward thirty years and Guardiola remains a bastion of sideline style with his Manchester City side weaving together some of global football's most beautiful, brutal, and unceasingly effective passages of play. We all may love to see the vintage footage of a young Pep, fresh-faced with a neat goatee walking confidently along the runway, nonetheless, I believe we can also universally agree that he made the correct decision in listening to the words of Cruyff and focusing on the Beautiful Game. However, when he stepped onto the catwalk thirty years ago, he also proved to be a pioneer in a field that he only followed from afar at the time, out of passion rather than fashion.