Rafa Nadal is wearing a Utility Vest, but it's not for fashion
Nike's is taking its tech to a new level to help Nadal
There is an absolutely new garment that is helping Rafael Nadal to fight the New York heat, during the US Open currently underway.
And no, it is not one of the 10 most outrageous outfits seen at Flushing Meadows: it is the cooling vest that created the Nike Sport Research Lab for the champion from Mallorca, particularly suffering the american high temperatures. It is a removable garment able to cover most of the bust, keeping it cooler thanks to the ability to lower the body temperature.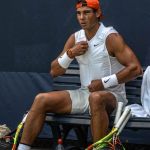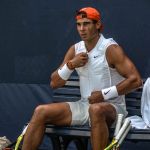 The prototype was born in the Nike Sport Research Lab through tests on the relationship between body temperature and athlete performance. Nike researchers found that roughly 25 percent of energy used during exercise goes toward moving muscle, and the remaining 75 percent becomes heat that increases body temperature. This can hinder athletic performance, both physically and in an athlete's mind. The vest is customizable that has four removable cooling packs to cover maximum surface area across the front and back of the torso, and is capable of quickly reducing body temperature — sometimes within only two to three minutes. Lightweight and form-fitting, the Nike cooling vest is comfortable enough to wear in warm-ups before matches, between games and during rest periods to help NikeCourt athletes play longer and harder in extreme conditions.