Zlatan Ibrahimovic on the Jimmy Kimmel Live!
Just Zlatan being really Zlatan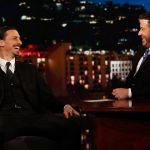 If you were wondering how the American people and Zlatan Ibrahimovic would get along, yesterday night it was aired a pretty accurate sum of it. Last night the most notorious American late night show - the Jimmy Kimmel Live! - was invaded by the Swedish striker that recently moved from Manchester United to the LA Galaxy, one of the most winning football team of MLS. In the 8-minute interview with Kimmel, Zlatan went full mode cooky Zlatan, speaking about soccer, nicknames and he also to the most hyped question: "Are you going to the World Cup?". The full interviewed is something that you really don't want to miss.
Since I'm totally in love with this side of Ibra and cause American people especially in LA will consider it seriously I collected my fav quotes right here, so that you can tweet them to your friends across the ocean.
About his Sweedishness:
I'm not the typycal Swedish guy, but I put Sweden on the map
Referring to his goal first cap goal in LA derby:
I had a vision before I come, I know there is some earthquakes in Los Angeles, but this one was me stepping in Los Angeles
What if Zlatan had chosen another sport:
I choose football and I'm sorry for that offense that is cheering for other sports 'cause it would be same thing
About his participation in the World Cup:
A World Cup without me It would not be a world Cup
The final Jimmy Kimmel's comment about the interview:
I really feel like more of a men just sitting right next to you.