Francesco Totti (shirt) goes to space
Thanks to a partnership with Avio, AS Roma sent the Captain's shirt to space with the "Vega" rocket
As Roma has officially announced that on Tuesday night the Francesco Totti's 10 was successfully launched into space. The shirt is an exact replica of the one worn by the Captain for the final game of his career on May 28 this year. The idea of sending the shirt to space was born on the Roma's social networks in middle July. The idea was brought to life by Avio, a worldwide leader in the field of space travel. The flight plans were drawn up in Italy and the rocket 'Vega' carrying Totti's shirt was successfully launched in French Guyana.
Apparently, the Capitano enjoyed the venture.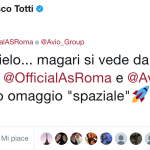 A small step for man, a big step for Il Pupone.