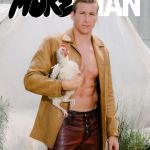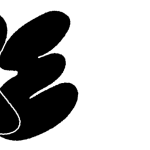 Federico Baschirotto
Into the Wild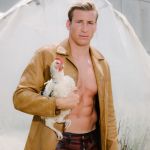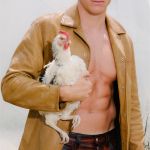 It's still July and there's a sultry heat in Milan that sticks to you. Nevertheless, we are on our way to visit one of the players on his family farm in the province of Verona. When we arrive, we are greeted by Federico Baschirotto, an unusual scene that already shows the kind of person behind those granite muscles. Indeed, the defender from Lecce greets us as if we were lifelong friends, proudly showing us around his estate, but above all serving us lunch, setting the table and cutting the salami, simple gestures that underline his great humility and desire to keep busy. A man of the people, as he has defined himself time and again, and as he told me that day in the country: "I'm a humble guy, even if it doesn't look like it at first glance. On the pitch I convey fighting spirit and desire, I transform a bit, but outside I'm a bit like everyone else, a normal person who likes to be in company, joking and laughing. That's a side that not everyone sees, and I think that's what has helped me to be so successful: I am a sociable person."

Our meeting begins at his Azienda Agricola Baschirotto F&F estate, the place where Federico relaxes and unwinds after a season spent fighting and running on pitches halfway up the Serie A table. He has sacrificed himself both on and off the pitch. Baschirotto has attracted a lot of attention, Fabio Caressa has praised his physical and tactical qualities in every broadcast, even going so far as to say that he prefers him to the greatest defenders. Words that have not gone unnoticed and that have contributed to the popularity of a player who is far from the stereotype of the Serie A footballer, both by his looks and his human qualities, making him the perfect protagonist for the new episode of More Than.
That Baschirotto is no ordinary footballer becomes immediately clear when he talks about tractors instead of sports cars and lists his favourites. "I grew up here on the farm with John Deers, so that's my favourite. A model I like much more than the others." So in the world of the Lecce defender, it's not luxury cars, watches or other luxuries that count, but the simple things of everyday life away from the ball. And it is not enough to say that Federico Baschirotto is modest, because that would not do justice to his spontaneity, which makes him a unique person before makes him a footballer. A young man who appreciates the world of fashion, which can be seen in the way he moves in suits that are exceptionally woven for him and his physique, and who is also aware of the influence he has in the world of football: "The world of fashion fascinates me, it also fascinates me because fashion has quite a big influence today, even in football."

On the other hand, he feels very comfortable in the centre of attention, because it is a way to motivate himself and give more and more: "I am a person who seeks and wants the challenge, I am not afraid of all the attention. That's exactly what I want, a duel, I want to fight to prove to everyone that I can do it, whatever goal I have in mind, I can achieve it." There are also those who think that I can not do more than what I am doing, and for me that's just an incentive. It's all a challenge that I can and want to do even better. A way to make his family proud, who have always supported him in all his endeavours since childhood. As we strolled through the kitchen of the Baschirotto farm before lunch, where he entertained us and where we later photographed him, it was impossible not to discover mementos, newspaper clippings and memorabilia of Federico scattered here and there. A family business that has defined his entire career, from Serie C to his call-up to the national team, and which he has shared with his four brothers. Indeed, football is a shared affair for the Baschirotto brothers. Two of them take care of business and support the other two in any way they can, if only by wearing their shorts.
Despite this support, his path was not easy, for the road was never paved, but he is a monument to work ethic and willpower. He explains that there were times when, despite his great dedication, he thought he would not make it. There were many difficult moments. In every year of this cavalcade that brought me to Serie A, there were certain phases. "But I managed to respond through the desire and the belief that I still have now to reach and keep Serie A. So even though I had those setbacks, I never lost my goal, my dream in the drawer, in fact, those difficult moments sometimes gave me even more strength to keep going. For me, the difficult moments have always been an incentive to get to where I am now and where I might want to be tomorrow, because I do not set limits for myself."

These are all fragments with which Federico Baschirotto built himself and his persona to achieve goals that were locked in a drawer that sometimes seemed closed and that he thought could not be opened even by force. But in the end, with the desire that distinguishes him not only on the pitch, but also when he wanders among his plants and animals, speaking with a consciousness and an authority, he overturned every possible expectation or prejudice. An irrepressible, almost contagious drive, which he also displays during the filming. In fact, it is he himself who collects the chickens, tends the donkey and organises the movements on his huge estate.
This desire to be involved, to never be satisfied, has found its blue target this season. A dream he had never really cherished either, although someone had predicted it: "I will give you a scoop that no one knows about: Corvino called me and said: "Baschi, come to Lecce, you will make the national team. I laughed and said that first I have to think about being in the starting eleven and playing, and then who knows. Actually, I have to thank coach Baroni, he gave me the confidence, as did the whole club, from the president to the staff to my teammates. It's been a crazy journey, if I had known at the beginning of the year that it would end like this, I would have signed in blood."

When this dream became reality, even he could not believe it: "When Mr Mancini called, I was surprised, I did not even understand who was on the phone, I did not expect it. In short, my heart was racing. Arriving in Azzurro is inexplicable, it's indescribable feelings, you ask yourself a thousand questions and wonder if it's all true. I remember at that moment I hugged my proxy who immediately told me to celebrate, we went to drink a bottle of wine. We had a backlog in saving Lecce, so we put the two together. Something we had to do. My procurator is the same as when I played in excellence and today we have almost reached Olympus. Living that feeling is what makes you stand out."
"Life on the farm is a parallel life, I never renounced my origins, firstly because I would have done myself an injustice and then my family. I was almost forced to lend a hand, my family always helped me with everything and never let me give up, if I can I always come back to lend a hand."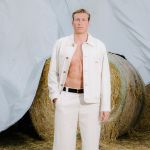 "Life on the farm is a parallel life, I never renounced my origins, firstly because I would have done myself an injustice and then my family. I was almost forced to lend a hand, my family always helped me with everything and never let me give up, if I can I always come back to lend a hand."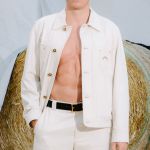 Unfortunately, however, there is no magic recipe behind Baschirotto's successes, no shortcuts along his path. I am sorry if anyone was waiting for a formula, but today we got confirmation that his path is paved only by hard work, discipline and humility. "The secret could be my background, my family where I was born and raised. This is where I learnt what work and sacrifice means, and I also started from the bottom in football. This growth has helped me to become mentally strong," explains Baschirotto, who returns here every summer so as never to forget his origins. In fact, the place where we spent a day is a magical place, a farm founded by the footballer's grandfather, Graziano, who decided to open his own business to follow the passion for breeding and farming passed down from generation to generation. This tradition is now continued with the help of his wife Giuliana and his two sons Filippo and Fabio, with Federico Baschirotto still defining part of himself: "It's a parallel life, I never broke away from my origins, mainly because I would have done myself and my family an injustice. I was almost forced to pitch in, my family has always helped me with everything and never let me give up on anything, and when I can I always come back to help. This is above all a pleasure for me. I have always lived in the farm, in the dust."
With his feet firmly on the ground, perhaps in a pair of work boots, it is easier to keep his eyes on the world of football and the last few years between Serie A, the national team and the farm. "It's a very special relationship I have with the country. When I come here to help my father, I think that's the real work. When I might go to the gym a little early or come home after working out, I always think it's a holiday. When you come home, you see the land, you see the corn on the cob, you think about the hard work and everything, getting up at 5am, so when I'm on the pitch, luckily I just think about having fun."