The best beers produced by football teams
Napoli also decided to tap a blonde to celebrate the Scudetto
Football is a great sport, but it is made even better when accompanied by a nice cold beer, a combination that has always characterised the aesthetics and enthusiasm of fans. This tradition is particularly strong in England, where beer brands from the Premier League down to the amateur leagues are iconic sponsors and where there is never a shortage of pints on the sidelines. Over the years, this relationship has even reversed and it has been the football clubs that have brewed and bottled a beer in the team's colours and crest. And now that Italian champions Napoli have also decided to brew a blue beer to celebrate winning the third championship in their history, we have decided to create a ranking of the best beers produced by football clubs.
Italian taps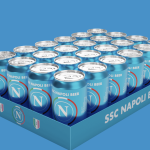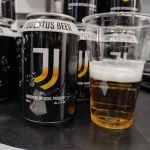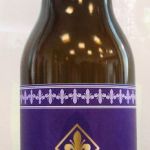 The first beer to be tapped by an Italian football team was Atalanta's in 2011 with Anesa Importazione Birra, which probably commissioned a microbrewery to produce it, but not many traces of it remain today. Fiorentina created their beer with L'Olmaia brewery in 2013, while AS Roma created one with Turan brewery in the same year. Then came Juventus Turin, which launched its bianconeri cans in 2023 together with 'El Original', a company involved in new product development and distribution. Last came the Italian champions Napoli, who launched their Napoli beer together with 'El Original'. The beer with the blue livery, the new three-coloured SSC Napoli logo and the anniversary sign is not yet available, but can be pre-ordered here.
Premier League's Beers
Every English team has produced a beer with their name on it at some point. It's a way of reinforcing fans' loyalty with an item that can be collected and uncorked together before kick-off, as well as paying homage to English beer culture. Certainly one of the most successful partnerships has been between Liverpool and Carlsberg, a sponsorship that has moved from the shirts to the pub bar, with a beer dedicated to winning the Premier League in 2019. To mark the 25th anniversary of the relationship between the two, Carlsberg has even set up a room to grow hops while watching Liverpool's games. Aston Villa, on the other hand, have worked with Purity Brewing during the Covid 19 wave and stadium closures to bottle a beer identical to the one normally served in the stands at Villa Park to recreate the atmosphere of the Curve even in your own living room while you wait for better times.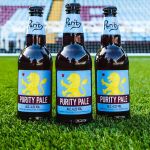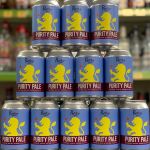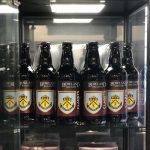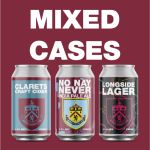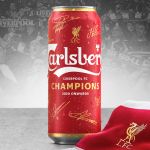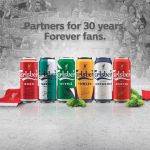 Of course, one of England's hottest fans, West Ham, could not be missing from this list - thanks to cans of Heineken. However, the same London club came under sharp attack last season for its beer prices at the stadium. Burnley FC, on the other hand, has chosen a small local company, Crafty Brewing, to launch its beer collection in the club colours. The other Clarets' fans can choose between a lager, an IPA and a cider, underlining the English club's deep tradition of its favourite drink.
Cans from South America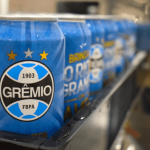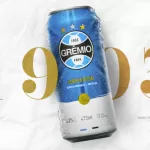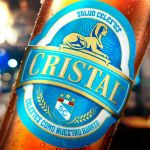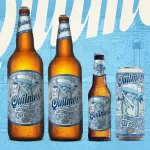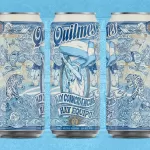 The South American continent has always been familiar with alcoholic and non-alcoholic beverages, adorning players' shirts in the form of patches of all sizes. This relationship has also led to some clubs producing branded beers for their fans, such as Gremio de Porto Alegre in collaboration with the distillery Salva Craft Beer. Or directly like Club Sporting Cristal, one of Peru's most successful teams, founded in Lima in 1955 by Richard Bentín Mujica and his wife Esther Grande de Bentín, owners of the Backus and Johnston brewery. It's no surprise then that the club's overall aesthetic has been heavily influenced by its home brewery, and of course there's no shortage of bottles and cans celebrating the club's successes at home and in the rest of South America. Last but not least, leading Latin American bottler Quilmes, which has often adorned the jerseys of local clubs, has created a special bottle to mark the 2022 World Cup, inspired by the 1986 edition, which ultimately brought good fortune to the Albiceleste.


American Pale Ale
Football, or football, is also gaining followers in the US, and these fans need something to drink during the sweltering summer games. That's why teams are producing branded bottles to motivate their fans to follow their newly formed teams. From the LouCity Golden Ale that Falls City Beer taps for Louisville City FC to Penn Brewery's Golden Hound Ale for the Pittsburgh Riverhounds to the Richmond Kickers' fan-inspired Red Army IPA, there are a variety of beers created by local distilleries in the lower leagues of the USA.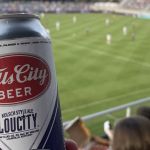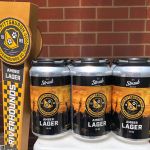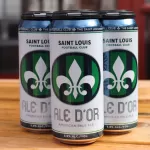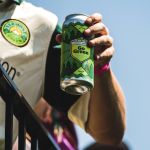 Some of these have become an integral part of the club's history, as in the case of St. Louis City FC, which used its partnership with Schlafly Beer to draw more and more people to the stadium until it succeeded by expanding into MLS in 2023. A never-ending story of success and tapped beers. Beer cans can also be a way to convey messages of sustainability and local engagement, as shown by the example of Vermont Green FC, which used its partnership with Burlington Beer Company to support the values of the club, which now plays in USL League Two. Of course, the beer's name is also in line with the environmental message, using the club's Go Green slogan.