Paris Saint-Germain published a book
'Closer to the stars' is an up-close look at the world's most fashionable club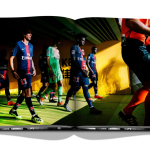 After opening stores on the Avenue des Champs-Élysées, in New York and collaborating with the most diverse entities in the fashion and non-fashion world, Paris Saint Germain decided to start a book, entitled 'Closer to the stars'. For six years, photographer Julien Scussel has had unprecedented access to the Parisian team and its players. No photographer or insider has ever come so close to a professional team composed of international stars who are always followed by the world's cameras. The result is a behind-the-scenes look at a project that has changed the sport forever, a club that has changed all the logics and dictates in the world of sport and beyond with its imprint and initiatives. From this experiment over six years, a unique book was born, collecting a series of shots that go beyond traditional sports photos.
"The project promises to be a long-term in-depth study. Of course, players are often photographed. At this level of fame, most of their lives become public. But in this case, the project is unique in its artistic purpose. Some shots offer a close look, just like a painting", for David Foenkinos, who narrates the book.
From Paris and New York to Tokyo and Doha, all the personalities who contributed to the club's fame are featured: Beckham, Ibrahimović, Cavani, Neymar Jr., Messi and Mbappé. A way to tell the story, from another point of view, of a club that has completely changed football and the way of conceiving it, and this release is further proof of that.
'Closer to the stars' is already available here.