Paris Saint Germain is organising a marathon
A race with players and former legends of the French club starting from the Parc des Princes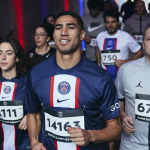 Paris Saint-Germain is launching a new immersive experience for all its fans: its inaugural 10 km race, to be held in Paris on 2 July 2023. Thousands of fans are expected on the starting line at the Parc des Princes for what promises to be a unique event that no club has ever organised before. The course is a loop in the centre of the French capital, starting and finishing at the iconic Parc des Princes, and is sure to create unforgettable memories for all runners. Exclusive activities will also be organised at each kilometre of the route to encourage them. It is possible to participate in the race from 16 years of age onwards, while the race for children will take place the day before the event to bring the magic of Paris to all generations.
Numbered bibs will be made available to fans and others at prices ranging from 15 to 40 euros, and packages with extras will also be offered. All season ticket holders and members of the Paris Saint-Germain loyalty programme will have priority access to the purchase of the bibs for a period of 24 hours. A marathon with a social background, because one euro per registration will be donated to the Paris Saint-Germain Foundation to support its activities.
Once again, the PSG does not miss the opportunity to prove itself a completely different club, but rather a true brand, capable of spanning every possible activity. Last week, the club in the French capital published a book to celebrate the last six years of its history, not long ago it opened stores on the Avenue des Champs-Élysées then in New York, and over the years it has even made a juice box and collaborated with various brands and designers, releasing countless collections. And now comes yet another initiative to visit and run through the heart of the capital for a round trip from the Parc des Princes to the legendary stadium where some of the greatest footballers of our generation play.