The Italian national team has changed its logo
The expression of the feelings and passion of all Italian fans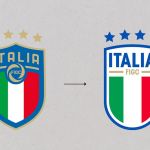 After the change of technical sponsor, the FIGC completes its rebranding process by presenting the new logo today. The chosen symbol merges into a single vision with the institutional one and inaugurates the football 2023, the year that will lead to the Nations League Finals 2023, in June (draw on 25 January in Nyon, UEFA headquarters), and that will lead us towards the European Championship 2024. Created by Independent Ideas, the creative agency of Publicis Groupe, which oversaw the rebranding of the FIGC that began with the creation of the institutional logo in October 2021, it celebrates a symbol of the country, and is an expression of the feelings and passion of all Italian fans.
"We are ready for the future. Today - declares FIGC president Gabriele Gravina - we present the new image of the National Azzurri; with the new shield and a specific sound identity, created for the first time in history, we enter a new dimension, but always with the desire and pride of generating extraordinary emotions in all the fans. Those same emotions that have contributed to creating the new emblem that will stand out on the shirts, innovating a glorious tradition, and that have inspired the brand new 'Azzurri' sound logo and track".
As suggested by rumours in recent months, the new logo of the Italian national team goes in the same direction as that of the FIGC, with the abandonment of the shield bordered in gold and the blue background for a more minimalist version in white with blue lettering and stars. Also changed is the font, which becomes flatter and simpler compared to the slightly curved shape used previously, while the FIGC logo on the inside remains only in its initials, maintaining, however, its distinctive gold colour as the only element. Not only the new logo has arrived, the FIGC has also unveiled the new sound identity signed by Inarea Identity Design, an Italian company with international experience in design and brand identity. Under the artistic direction of Enrico Giaretta, a real musical system was created, articulated in different elements: from the sound logo of the new scudetto, which in 3" synthesises the passion for the Azzurri and the Azzurre in which from today all supporters of the National Teams will be able to recognise themselves.