adidas is the new sponsor of Italy
After almost twenty years, the Azzurri have officially closed their relationship with PUMA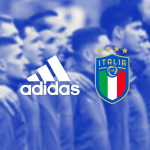 After the rumors of the past few months it is now official, after almost twenty years the Italian national team will stop its relationship with PUMA to move to adidas. The threes stripes will arrive on the Azzurri shirt only from January 2023, after the World Cup in Qatar in December, which will possibly be the last appointment of the Italian national team sponsored by PUMA. Kits will be made for each of the selections (men's, women's, youth, futsal, beach soccer and e-sports).
This is a comeback for
adidas
that had already sponsored the Italian national team in
1974,
a jersey worn by players of the caliber of
Zoff, Riva, Rivera, Mazzola
and
Capello,
being in fact the first real technical sponsor of the National team after the jerseys were previously made in-house. Now, almost fifty years later, the German brand will return to make the Azzurri jerseys, marking, as
FIGC president
Gabriele Gravina
specifies, "a fundamental step in the growth of our commercial appeal and reinforces the development process of our brand both in Italy and abroad. The passion and enthusiasm that we have found in adidas are the same that the
Italian Federation
invests every day in the enhancement of all the Italian national teams and Italian soccer, at every level".