What happened in 2022 in the world of football
The eternal struggle between Messi and Cristiano, Real Madrid's Champions and the passing of Pelé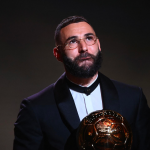 Recency bias is a powerful phenomenon, particularly in the sporting world. The World Cup is a behemoth of an event and the 2022 edition was shrouded in corruption, sportswashing and human rights abuses. The month-long tournament took over the majority of the football discourse at the tail end of the year and took our minds off all that had happened in the eleven months leading up to it, until the sadly announced news of Pelé's passing brought us back down to earth. For O' Rey was not only the most dominant player of his generation, and perhaps of football history, but also the sport's first modern superstar, the perfect ambassador for a world that changed around him.
This year we emerged from the restricted way of life we were confined to throughout the COVID pandemic. For football fans, that meant the ability to go and see their teams in the flesh and play a part in filling their stadiums to full capacity. After a 5,000 attendance cap was put in place by Serie A in January in response to the Omicron variant, the capacity was steadily increased to 30%, 50%, 75% and finally a full house was made possible again at the end of March. Regular match goers had missed plenty of live action, but Milanisti were overjoyed come the end of May as they saw their team claim their first Scudetto in eleven years. Other domestic leagues around Europe had more predictable winners, and it wasn't exactly a shock to see Real Madrid crowned Champions League winners, though they did provide some brilliantly dramatic matches for the neutrals on their way to glory.
Fans of the Italian national team had a less joyous year however. Less than 12 months after the ecstasy of winning Euro 2020 came the despair of missing out on a place at the World Cup for the second time in a row, at the hands of North Macedonia no less. The new Finalissima trophy match between the European and South American champions did not provide any consolation as gli Azzurri were comfortably beaten 3-0 by Argentina, who had a decidedly better 2022 than the country where many of their ancestors emigrated from. On the international stage Italy had a year to forget, but their young players fared better on an individual level. Gianluca Scamacca and Giacomo Raspadori shone for Sassuolo, earning moves to West Ham and Napoli respectively, while Wilfried Ngonto broke into the national team and joined Scamacca in the Premier League with a loan spell at Leeds.
It also was a fantastic year for women's football. The three highest attendances across Europe in 2022 were all recorded at women's matches. Barcelona set and subsequently broke the record in March with crowds of 91,553, and 91,648 turning out to see their side knockout Real Madrid and Wolfsburg on their way to the Champions League Final in Turin. Despite their strong support, Lyon provided an insurmountable challenge, beating the Catalans 3-1 in the final. After decades of presumptuous arrogance about their national side's superiority in tournaments, the English press were finally able to boast about football coming home when their women's team won Euro 2022, as their captain Beth Mead lifted the trophy in front of 87,192 spectators. Serie A Femminile kicked off its first season as a fully professional league and with improved coverage, television deals and a World Cup on the horizon, the women's game is going from strength to strength.
Dusan Vlahovic was the big January move, rejecting Arsenal in favour of Juve. Erling Haaland has made the best goalscoring start at a new club in living memory since joining Manchester City in the summer and Robert Lewandowski finally got his move to Barcelona and Karim Benzema received some late recognition by winning the Ballon d'Or at 34 years of age. Romelu Lukaku has had a so far unsatisfactory return to the San Siro as the under the radar signing of Kvara Kvaratshkelia turned out to be an instant success in Naples. Luciano Spalletti's team took Serie A and Europe by storm with their scintillating attacking football leading up to the World Cup break. They looked nailed on for a first post-Maradona Scudetto so they'll be hoping to rediscover that form after a couple of surprising friendly defeats to close out the year.
Close to the game but away from the pitch, 2022 saw the football x fashion crossover install itself as a regular feature of the calendar rather than a sporadic, unexpected visitor. Yohji Yamamoto celebrated his adidas anniversary with Real Madrid and Palace respectively, Off-White took formal wear partnerships in a new direction with their youthful range for AC Milan and New Balance and Aries combined for a truly spectacular AS Roma capsule collection that made the most of the city's rich history. The bar has been set high and there is no doubt that there will be more pretenders to the collaboration throne in 2023.
Another trend we witnessed in 2022 that looks set to continue in the new year is the modernisation of football clubs' visual identities, generally led by an updated crest. Venezia's Bureau Borsche-designed badge sought to be represent the forward-thinking values of the club while maintaining ties to the city's culture, Fiorentina reduced and minimalized their existing badge while Modena set the benchmark with un update that could never be accused of being overly corporate. Deviating from tradition by abandoning the oval crest, they incorporated a long-standing symbol of the club for a crest full of character.
Last but certainly not least, the World Cup that was protested by many and boycotted by some gave Lionel Messi the storybook ending (although it's not over yet) that such a glittering career deserves. If any doubt remained about his talent, Kylian Mbappé showed the world once again that he is the real deal with a set of brilliant performances capped by a hat trick in the final, while Cristiano Ronaldo saw himself dropped and his teammates play better without him. His own limited game time, Portugal's exit and his move to Al-Nassr were surely not how he would have imagined his career winding down. Some of 2022's football happenings were predictable, but many of them came by surprise, as so much of life tends to do. There is plenty more on the way in 2023.